Velvet Chicken & Corn Soup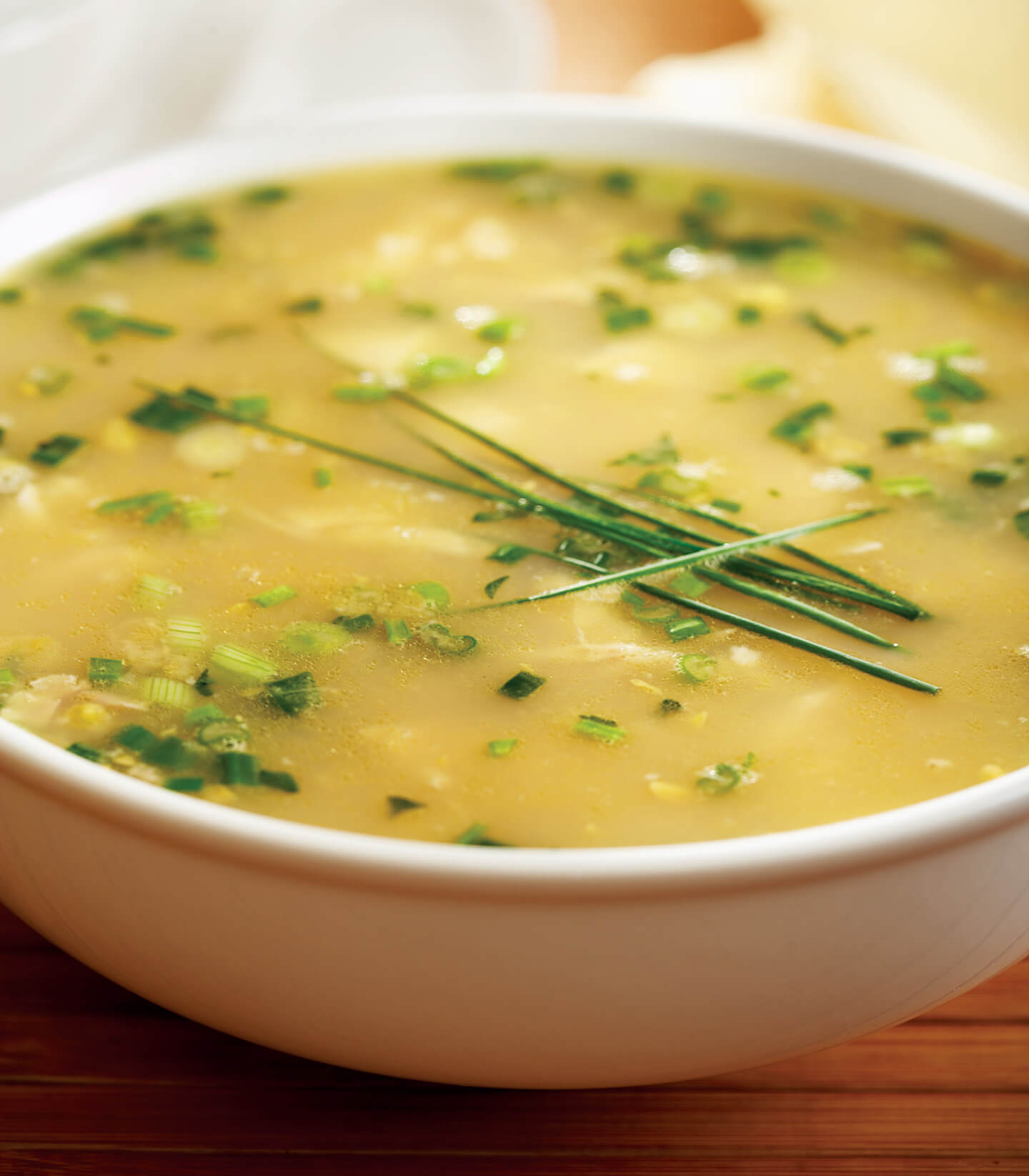 This silky soup comes together very easily, thanks to your slow cooker. Aromatic ginger infuses this Chinese-inspired soup with loads of flavour. A finishing touch of tamari, an aged soy sauce, brings all the flavours together into one comforting chicken soup.
Ingredients
1 lb
bone-in, skinless chicken breasts
2 tbsp
ginger, fresh, minced
2 cups
low-sodium chicken broth
3
green onion(s), finely-chopped
Food Safety
Before you start, wash all surfaces and your hands with soap and warm water, and remember to wash your hands, utensils and cutting boards after they touch raw meat or eggs. Avoid cross-contamination by using a different cutting board for your meat and other ingredients. Make sure you're cooking to safe temperatures and chilling any leftovers within two hours. For more food safety tips, visit our Food Safety at Home Section.
Steps
Heat oil in skillet and stir-fry ginger for 10 seconds. Add chicken broth to skillet and then pour into slow cooker.

Add skinless, bone-in breasts to slow cooker with cream corn, rice vinegar, white pepper, hot sauce and tamari. Cover and cook on low for 6 – 8 hours (or on high for 4-5 hours) until chicken is cooked through.

Remove chicken from slow cooker and cool. Take meat off the bone and dice into bite-size pieces. Add chicken back to slow cooker with finely sliced green onion.

Slowly stir in beaten egg whites. Keep stirring eggs until all in small strands.

Serve immediately with each bowl garnished with a handful of fresh watercress.
Helpful Tip
A simple, elegant recipe with Chinese origins.
Nutrition Info
| Per 255 g serving | Amount |
| --- | --- |
| Calories | 180 |
| Protein | 22 g |
| Fat | 5 g |
| Saturated Fat | 1 g |
| Carbohydrate | 13 g |
| Fibre | 1 g |
| Sugar | 4 g |
| Cholesterol | 45 mg |
| Sodium | 450 mg |
| Per 255 g serving | % Daily Value |
| --- | --- |
| Potassium | 10 |
| Calcium | 2 |
| Iron | 4 |
| Vitamin A | 6 |
| Vitamin C | 8 |
| Vitamin B6 | 24 |
| Vitamin B12 | 18 |
| Folate | 2 |
| Zinc | 8 |