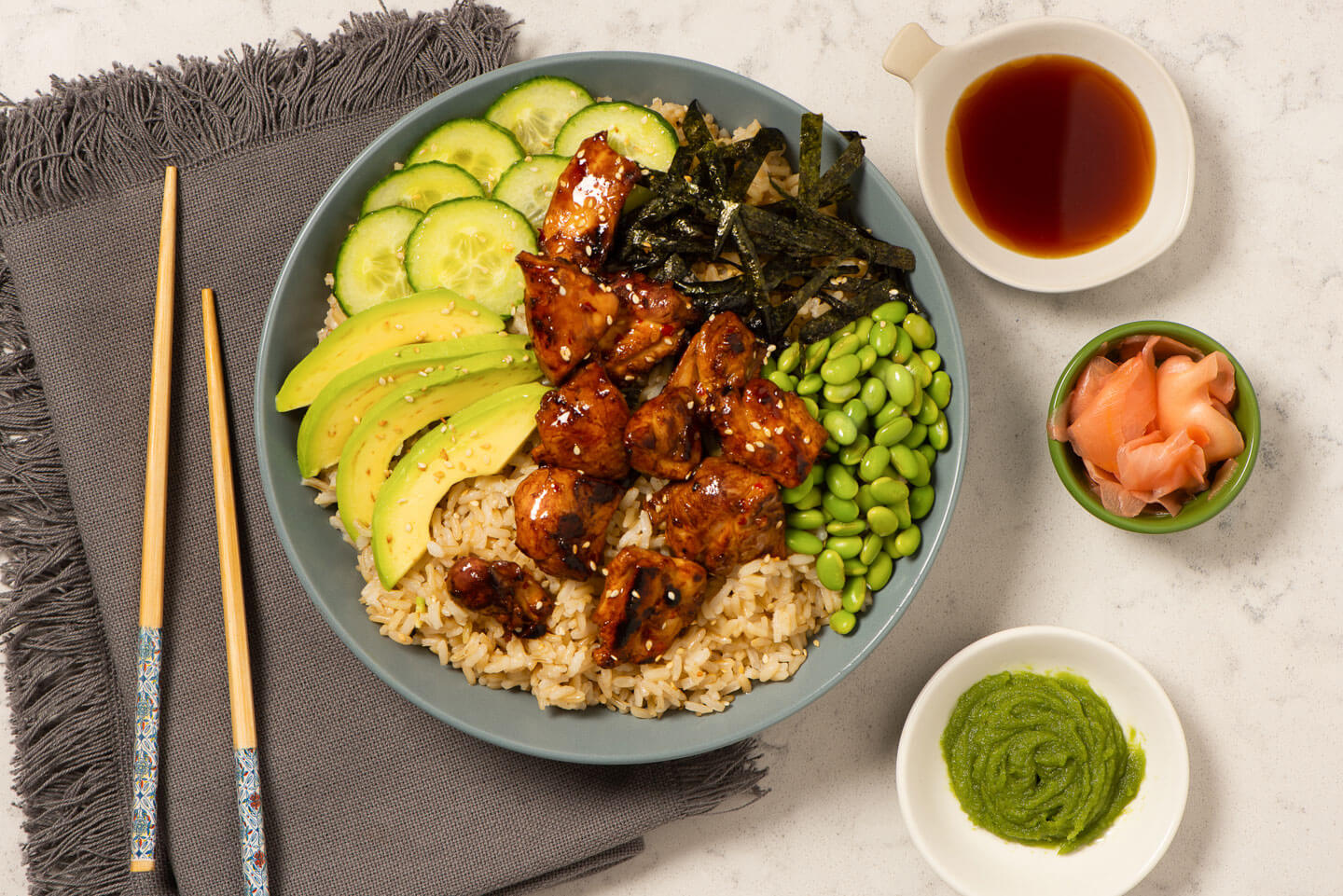 Video Title:
How to make: Chicken Poke Bowl
We've given this classic Hawaiian dish a makeover using caramelized chicken thighs instead of the traditional raw fish.
Ingredients
½
pear, peeled and grated
¼ cup
soy sauce (approx.)
1 tbsp
garlic chili paste
6
boneless, skinless chicken thighs (1 1/4 lb/600 g), cubed
1
large ripe avocado, chopped
1 cup
thinly sliced cucumbers
2 tbsp
toasted sesame seeds
Food Safety
Before you start, wash all surfaces and your hands with soap and warm water, and remember to wash your hands, utensils and cutting boards after they touch raw meat or eggs. Avoid cross-contamination by using a different cutting board for your meat and other ingredients. Make sure you're cooking to safe temperatures and chilling any leftovers within two hours. For more food safety tips, visit our Food Safety at Home Section.
Steps
In large bowl, whisk together pear, soy sauce, vinegar, honey, chili paste and sesame oil. Add chicken and toss to coat; let stand for 15 minutes.

Heat oil in large nonstick skillet set over medium-high heat; cook chicken, stirring often, for about 10 minutes or until cooked through and caramelized. Let cool slightly.

Meanwhile, divide rice among four bowls; arrange avocado, cucumbers, nori and edamame over rice. Top with chicken, pickled ginger and wasabi paste. Sprinkle with sesame seeds. Serve with extra soy sauce for dipping if desired.
Nutrition Info
| Per 1 serving | Amount |
| --- | --- |
| Calories | 580 |
| Protein | 36 g |
| Fat | 23 g |
| Saturated Fat | 4 g |
| Carbohydrate | 59 g |
| Fibre | 9 g |
| Sugar | 6 g |
| Cholesterol | 95 mg |
| Sodium | 400 mg |
| Per 1 serving | % Daily Value |
| --- | --- |
| Potassium | 25 |
| Calcium | 10 |
| Iron | 30 |
| Vitamin A | 2 |
| Vitamin C | 20 |
| Vitamin B6 | 50 |
| Vitamin B12 | 30 |
| Folate | 80 |
| Zinc | 60 |