Chicken Burgers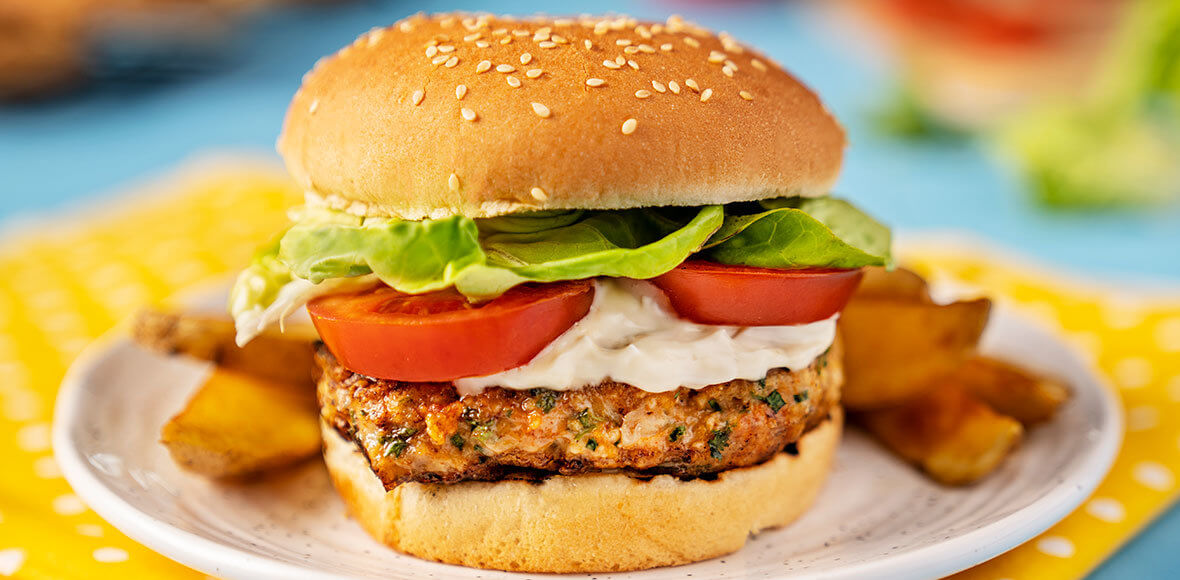 Bread crumbs and milk keep these chicken burgers unbelievably moist and flavourful. Try them at your next barbecue!
Ingredients
⅓ cup
breadcrumbs, dry
¼ cup
green onions, chopped
1 tsp
Worcestershire sauce
6
whole wheat pitas or hamburger rolls
Food Safety
Before you start, wash all surfaces and your hands with soap and warm water, and remember to wash your hands, utensils and cutting boards after they touch raw meat or eggs. Avoid cross-contamination by using a different cutting board for your meat and other ingredients. Make sure you're cooking to safe temperatures and chilling any leftovers within two hours. For more food safety tips, visit our Food Safety at Home Section.
Steps
Combine chicken, bread crumbs, milk, chopped green onions, Worcestershire sauce and salt and pepper and form into patties.

barbecue or fry for approximately 5 minutes per side or until meat thermometer registers 165°F (74°C).

Serve on a whole wheat bun or in a pita shell garnished with sliced tomato, cucumber, green onion, lettuce and mayonnaise.
Nutrition Info
| Per 180 g serving | Amount |
| --- | --- |
| Calories | 310 |
| Protein | 19 g |
| Fat | 13 g |
| Saturated Fat | 1 g |
| Carbohydrate | 28 g |
| Fibre | 2 g |
| Sugar | 5 g |
| Cholesterol | 60 mg |
| Sodium | 410 mg |
| Per 180 g serving | % Daily Value |
| --- | --- |
| Potassium | 5 |
| Calcium | 10 |
| Iron | 15 |
| Vitamin A | 4 |
| Vitamin C | 10 |
| Vitamin B6 | 4 |
| Vitamin B12 | 9 |
| Folate | 26 |
| Zinc | 6 |