Simple Sage, Garlic & Lemon Roast Chicken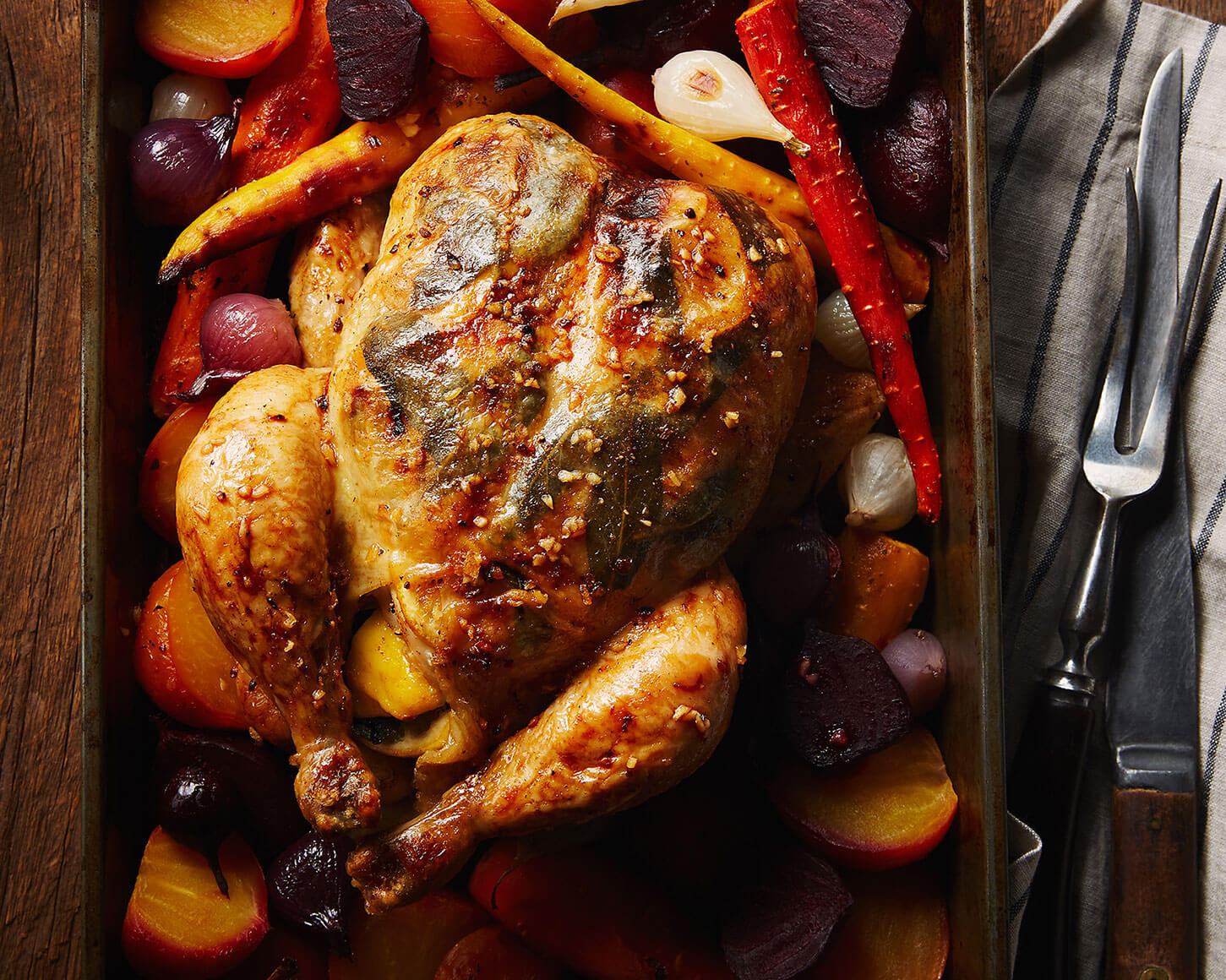 This simple roasted chicken recipe is bursting with flavour and pairs well with fresh, seasonal vegetables.
Ingredients
¼ tsp
black pepper, freshly ground
½ tsp
paprika, sweet or smoked
Food Safety
Before you start, wash all surfaces and your hands with soap and warm water, and remember to wash your hands, utensils and cutting boards after they touch raw meat or eggs. Avoid cross-contamination by using a different cutting board for your meat and other ingredients. Make sure you're cooking to safe temperatures and chilling any leftovers within two hours. For more food safety tips, visit our Food Safety at Home Section.
Steps
Preheat oven to 375°F (190°C). Remove giblets and neck from the cavity of the chicken. You can discard or freeze to use later when you make your next batch of soup.

Wash 15 fresh sage leaves and set on kitchen towel to air dry. Add 3 sage leaves to the cavity of bird.

Use a whole head of garlic. Cut 4 cloves of garlic into thin slivers. You can smash them with the side of the blade of a large knife to make it easier to peel away skin. Mince the last cloves of garlic and set aside as they will be sprinkled over top of chicken before roasting.

Cut first lemon in half lengthwise and slice thinly into half moon slices. Cut second lemon in half horizontally and add both halves to cavity of the bird. The lemon in the cavity steams and helps keep the chicken tender and juicy. Juice the other lemon and set aside.

Use your fingers to carefully loosen skin from top of chicken breasts on both sides and at both ends. Carefully stuff in a slice of lemon, sliver of garlic and a fresh sage leaf across top being careful not to pierce skin – Keep going until you are out of space! You can stuff the extras into the cavity.

Use your hands to coat chicken breast and legs with olive oil. Season with sea salt, freshly ground black pepper and sweet paprika. Mince garlic and sprinkle over top of chicken. You can truss the legs if you wish but this is not necessary.

Roast for one hour at 375°F (190°C). Drain off fat and discard. Pour fresh lemon juice over chicken followed by maple syrup and roast another 20 minutes or until meat thermometer inserted in thigh registers 180°F (82°C). Take the chicken out when done, and let rest for 10 minutes before slicing.