Sticky Rice and Chicken Sesame Balls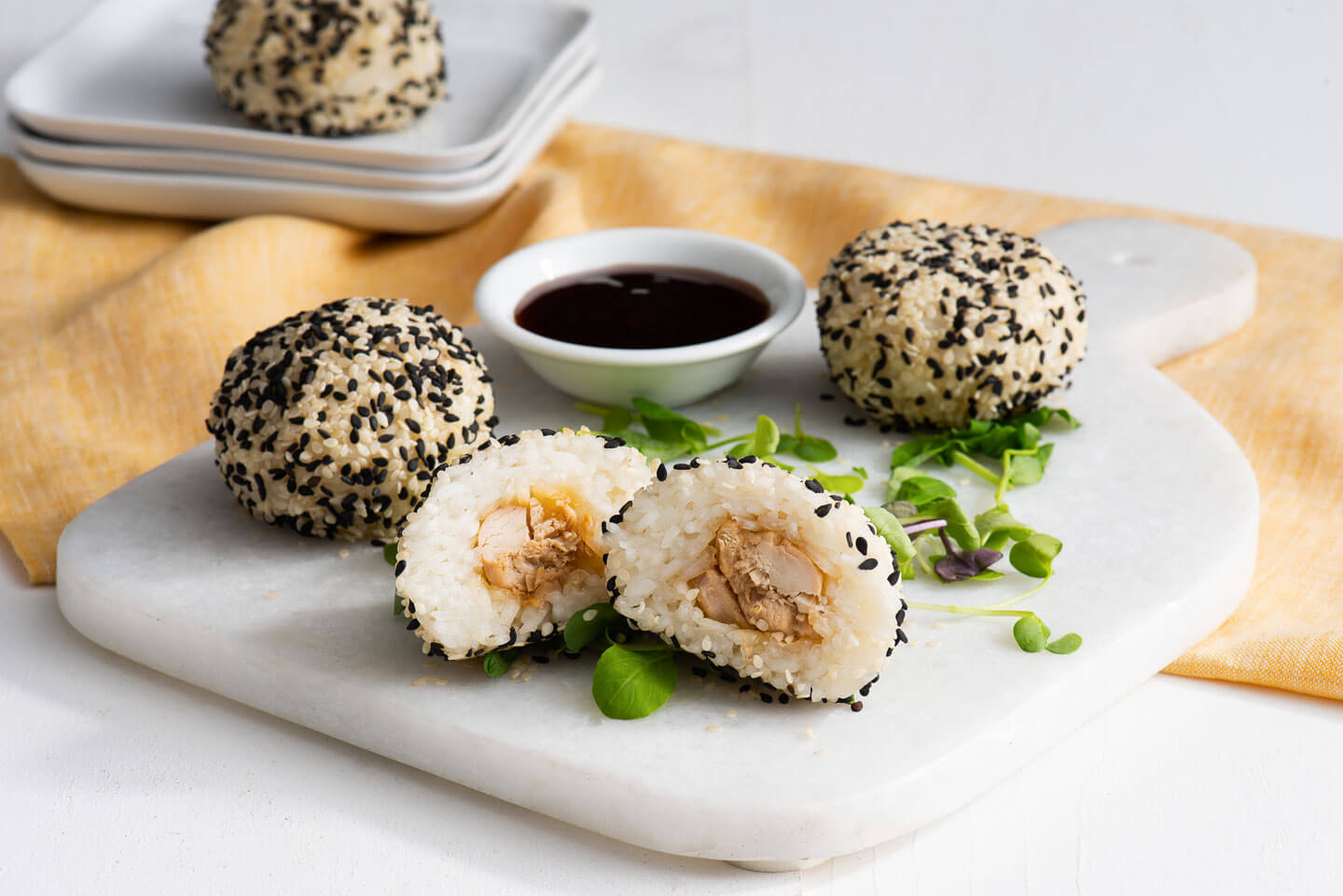 Video Title:
How to make: Sticky Rice and Chicken Sesame Balls
These little sticky rice balls make for the perfect party app. Serve with your favourite Asian dipping sauce. 
Ingredients
4
boneless, skinless chicken thighs (1 lb/500 g)
¼ tsp
each salt and pepper
½ cup
prepared teriyaki sauce
2 tbsp
finely chopped green onion
½ cup
toasted black and white sesame seeds
Food Safety
Before you start, wash all surfaces and your hands with soap and warm water, and remember to wash your hands, utensils and cutting boards after they touch raw meat or eggs. Avoid cross-contamination by using a different cutting board for your meat and other ingredients. Make sure you're cooking to safe temperatures and chilling any leftovers within two hours. For more food safety tips, visit our Food Safety at Home Section.
Steps
Place rice in fine-mesh sieve; rinse under cold running water until water runs clear. In saucepan set over high heat, combine rice and 2 cups (500 mL) water; bring to boil. Cover and reduce heat to low; cook for about 15 minutes or until rice is tender. Remove from heat; let stand, covered, for 10 minutes. 

Meanwhile, in small bowl, combine vinegar, sugar and salt. Microwave on High for about 30 seconds or until dissolved. Transfer rice to large, nonreactive bowl; pour vinegar mixture over top, stirring until rice is completely coated. Let cool completely. 

Cut chicken into ½-inch (1 cm) pieces. Heat oil in large, nonstick skillet set over medium heat; cook chicken, salt and pepper until chicken is golden brown around edges. Add teriyaki sauce; simmer for 3 to 5 minutes or until thickened and chicken is caramelized and cooked through. Let cool completely. Stir in green onion.

Measure out ¼ cup (60 mL) cooked rice and flatten in palm of hand. Spoon some of the chicken mixture onto centre of rice; form into ball to enclose filling. Roll in sesame seeds. Balls can be covered tightly and refrigerated for up to 3 days. Makes 16 balls. 
Helpful Tip
Tip: Drizzle with hot sauce or serve with additional teriyaki sauce for dipping.
Nutrition Info
| Per 65g serving | Amount |
| --- | --- |
| Calories | 170 |
| Protein | 8 g |
| Fat | 4.5 g |
| Saturated Fat | 1 g |
| Carbohydrate | 24 g |
| Fibre | 1 g |
| Sugar | 3 g |
| Cholesterol | 20 mg |
| Sodium | 470 mg |
| Per 65g serving | % Daily Value |
| --- | --- |
| Potassium | 4 |
| Calcium | 4 |
| Iron | 8 |
| Vitamin B6 | 8 |
| Folate | 4 |
| Zinc | 15 |