Chili-Orange Flattened Chicken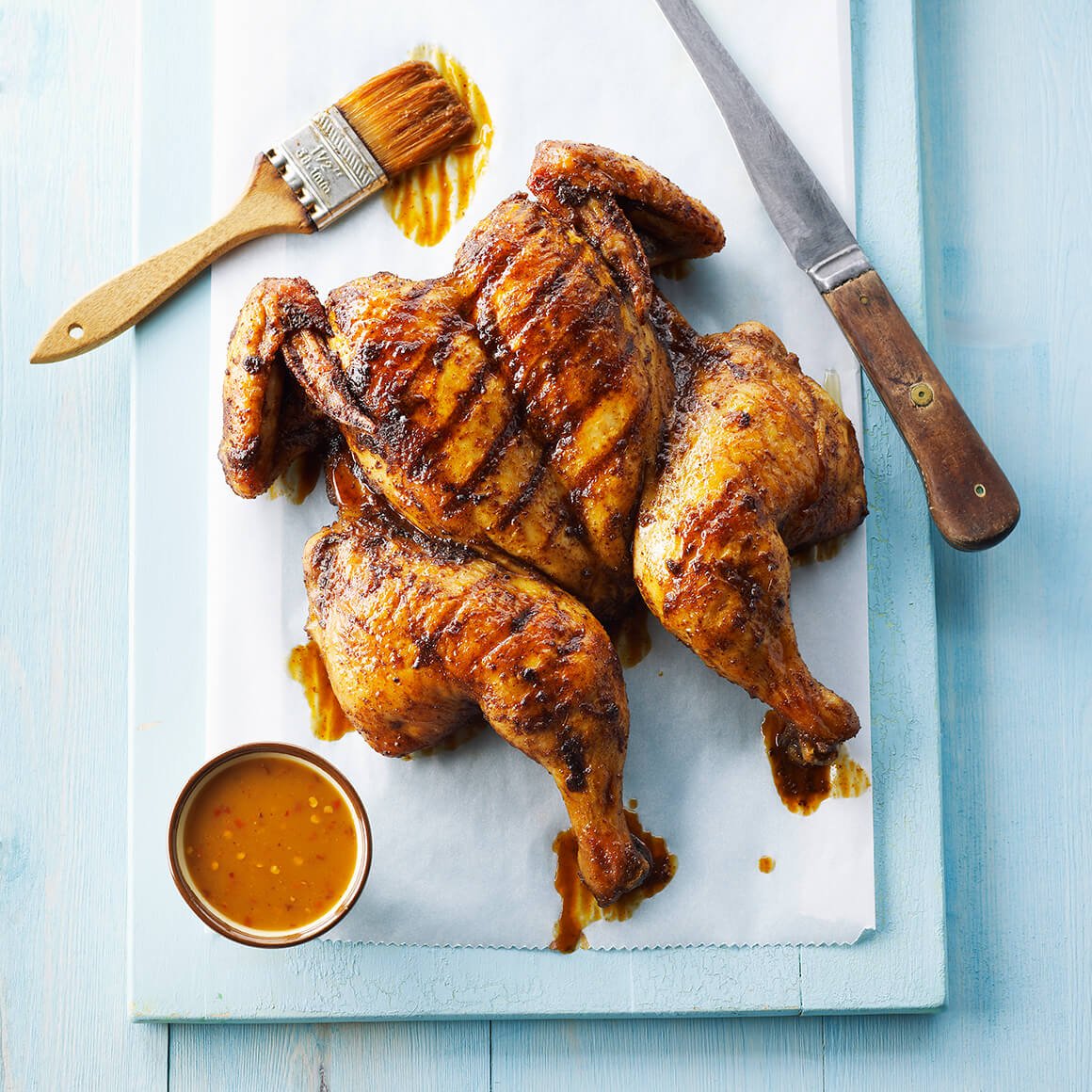 It's incredible how much taste is captured in every single bite when you flatten a chicken (not hard to do) then weight it down while roasting or barbecuing. It's a panini effect and definitely worth the little extra effort it takes – plus it packs an impressive punch when entertaining.
Ingredients
1 tsp
hot red chili pepper flakes
Food Safety
Before you start, wash all surfaces and your hands with soap and warm water, and remember to wash your hands, utensils and cutting boards after they touch raw meat or eggs. Avoid cross-contamination by using a different cutting board for your meat and other ingredients. Make sure you're cooking to safe temperatures and chilling any leftovers within two hours. For more food safety tips, visit our Food Safety at Home Section.
Steps
Preheat oven to 425°F (220°C) or barbecue to medium. In a small bowl, stir butter with all the seasonings.

To flatten chicken, turn breast side down on a cutting board. Using a knife or kitchen scissors, cut out the backbone and discard. Remove excess fat. Turn breast side up. Cover with a piece of waxed paper. Press down on the the breast bone or smash with a heavy frying pan to break the bones and even the thickness of the chicken.

ROAST: Choose a rimmed baking dish large enough to hold the flattened chicken, such as a 9 x 13 inch (2 L) dish, and generously oil the pan. Spoon about two-thirds of the spice butter on the breast side of the chicken and rub all over the top side of the bird. Place chicken in the pan, spice-coated side down. Rub bone side with remaining spice butter, particularly on the chicken flesh. Pour orange juice in the pan around the bird and sprinkle chilies in the juice. Cover the underside of a large cast iron frying pan or metal pan, about the same size as the chicken, with foil. Place on top of the chicken. Weight down with a brick or heavy oven-proof object.

Bake in the 425°F (210°C) oven for 20 minutes. Turn chicken skin-side up and re-place pan and weights. Bake 15 minutes. Remove weights and pan. Continue roasting until skin is golden and an instant read thermometer inserted in the breast reaches 180°F (82°C), from 10 to 15 minutes. Remove from the pan and let sit 5 minutes before carving. Use juice mixture as a dipping sauce.

BARBECUE: Turn chicken breast side down on board. Rub half the spice butter over the bone side of the bird. Move to a plate for carrying to the barbecue, placing breast side up. Rub the rest of the spice butter over the breast side.Place chicken, breast side up, on the barbecue grill. Weigh down with a foil-covered brick or foil-covered heavy cast iron frying pan.

Close lid and barbecue on medium for 20 minutes. Remove the brick. Turn chicken. Replace foil on the brick and place on the chicken again. Continue grilling, covered, until chicken feels firm when pressed and an instant read thermometer inserted in the breast reaches 180°F (82°C), from 15 to 25 minutes. Remove to a cutting board and let sit 5 minutes before cutting into serving size pieces.

For a dipping sauce, combine juice and chilies in a wide frying pan. Boil until as thick as you like.
Helpful Tip
Prepare and bake chicken as above but skip the weighing down of the chicken. Instead simply lay a piece of foil loosely over top to help the chicken retain moisture and prevent the skin from burning. Bake, breast-side down, for 30 minutes. Then turn and bake, uncovered, for 10 to 15 minutes until golden.
Nutrition Info
| Per 475 g serving | Amount |
| --- | --- |
| Calories | 850 |
| Protein | 60 g |
| Fat | 61 g |
| Saturated Fat | 19 g |
| Carbohydrate | 15 g |
| Fibre | 1 g |
| Sugar | 11 g |
| Cholesterol | 265 mg |
| Sodium | 560 mg |
| Per 475 g serving | % Daily Value |
| --- | --- |
| Potassium | 242 |
| Calcium | 6 |
| Iron | 25 |
| Vitamin A | 35 |
| Vitamin C | 110 |
| Vitamin B6 | 1226 |
| Vitamin B12 | 267 |
| Folate | 93 |
| Zinc | 189 |