Cabbage and Peanut Butter Chicken Stir-Fry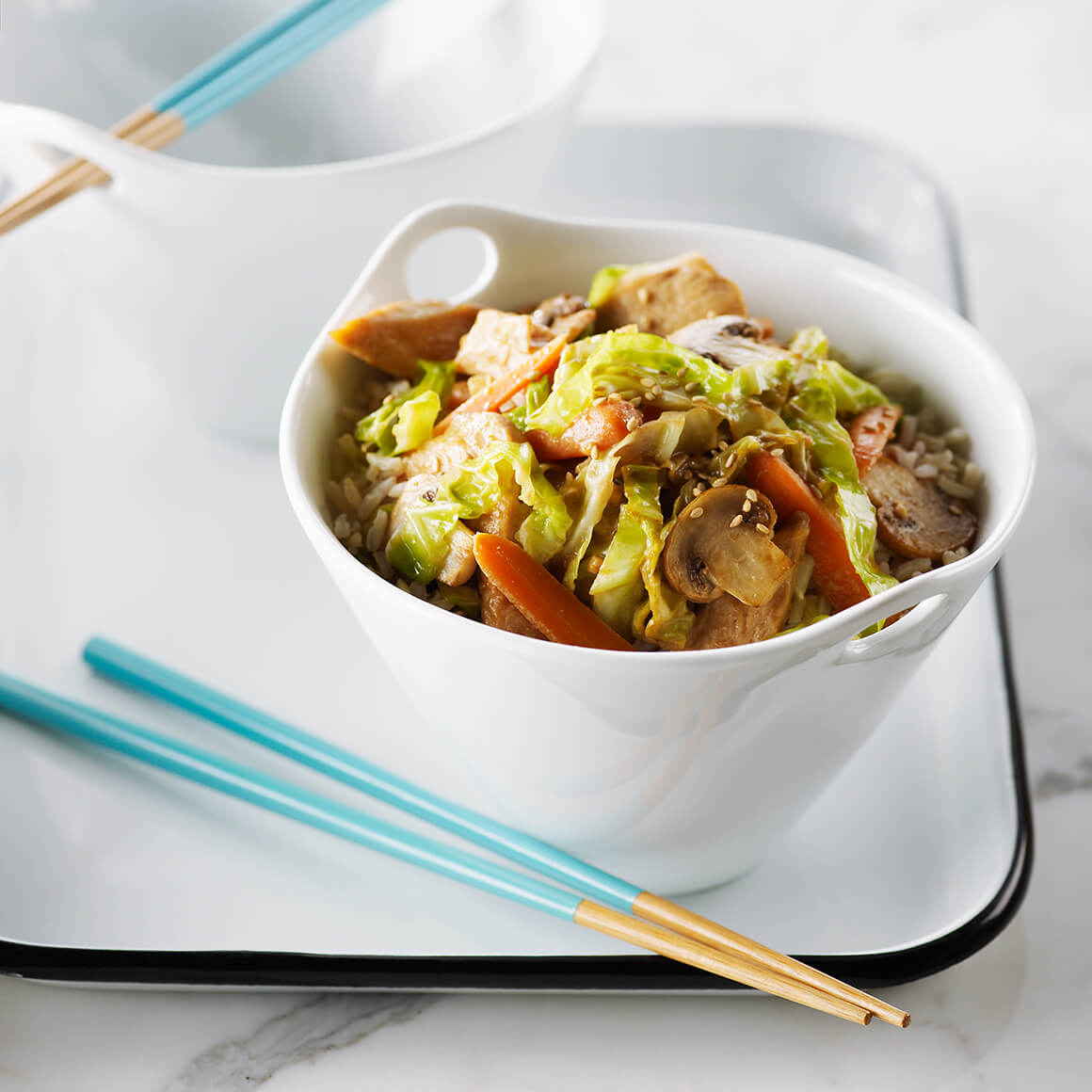 This simple and healthy stir-fry includes the unusual ingredients of Dijon mustard and peanut butter and unlike most stir-frys ours is low fat and low sodium. Any leftovers are awesome in wraps or stuffed into pitas for tomorrow's portable lunch.
Ingredients
1 cup
long grain brown rice, uncooked
1 lb
boneless, skinless chicken breasts
4 cups
green cabbage, shredded
2 cups
baby carrots, cut in quarters
1 tbsp
light tamari sauce
2 tsp
peanut butter, creamy
½ cup
cilantro, minced, for garnish
1 tbsp
sesame seeds, for garnish
Food Safety
Before you start, wash all surfaces and your hands with soap and warm water, and remember to wash your hands, utensils and cutting boards after they touch raw meat or eggs. Avoid cross-contamination by using a different cutting board for your meat and other ingredients. Make sure you're cooking to safe temperatures and chilling any leftovers within two hours. For more food safety tips, visit our Food Safety at Home Section.
Steps
Cook brown rice in unsalted water for the amount of time specified on the package.

Cut chicken breast into ½ inch (1.25 cm) bite-size pieces. Set aside.

Heat 1 tablespoon (15 mL) canola oil over medium-high heat in a non-stick skillet. You can use less oil if you have a very good pan. Add chicken and stir-fry until lightly browned and just cooked through and internal temperature registers 165°F (74°C). Transfer to plate and cover to keep warm.

Prepare the vegetables by mincing garlic, shredding cabbage, cutting baby carrots and slicing mushrooms.

Whisk together tamari, Dijon mustard, sesame oil, peanut butter and warm water in a bowl. Set aside.

Add another tablespoon (15 mL) canola oil to the pan and stir-fry the minced garlic one minute. Add the rest of vegetable and continue to stir-fry until tender crisp – about 3-4 minutes.

Pour sauce over the vegetables and stir-fry an additional 2 minutes. Stir in the cooked chicken, toss and stir-fry a few minutes to heat through.

To serve, spread out cooked brown rice on individual dinner plates. Top with stir-fry. Garnish with fresh minced cilantro and sesame seeds.
Helpful Tip
Beans sprouts are a great substitute for shredded cabbage.
Nutrition Info
| Per 410 g serving | Amount |
| --- | --- |
| Calories | 360 |
| Protein | 32 g |
| Fat | 10 g |
| Saturated Fat | 2 g |
| Carbohydrate | 35 g |
| Fibre | 6 g |
| Sugar | 4 g |
| Cholesterol | 65 mg |
| Sodium | 330 mg |
| Per 410 g serving | % Daily Value |
| --- | --- |
| Potassium | 24 |
| Calcium | 10 |
| Iron | 10 |
| Vitamin A | 220 |
| Vitamin C | 60 |
| Vitamin B6 | 55 |
| Vitamin B12 | 22 |
| Folate | 31 |
| Zinc | 24 |