Butterflied Herb and Lemon Grilled Chicken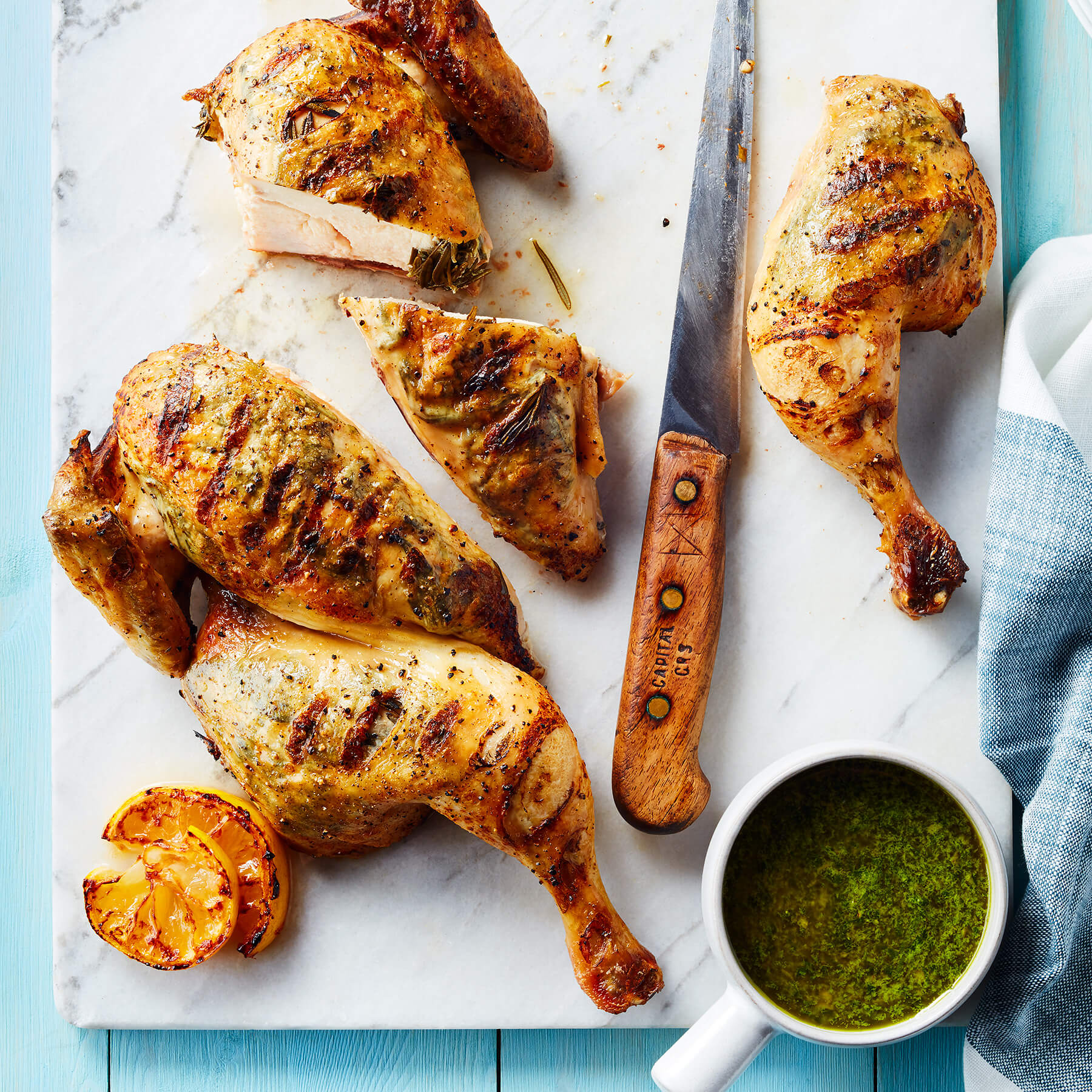 In this recipe cilantro is added to the classic pairings of lemon, garlic, rosemary and thyme making this dish just a little different than your traditional Greek chicken dinner.
Ingredients
Butterflied Herb and Lemon Grilled Chicken
4 lb
whole chicken, butterflied
lemon, sliced, for garnish
Herb and Lemon Sauce
⅓ cup
parsley, chopped
⅓ cup
basil, chopped
Food Safety
Before you start, wash all surfaces and your hands with soap and warm water, and remember to wash your hands, utensils and cutting boards after they touch raw meat or eggs. Avoid cross-contamination by using a different cutting board for your meat and other ingredients. Make sure you're cooking to safe temperatures and chilling any leftovers within two hours. For more food safety tips, visit our Food Safety at Home Section.
Steps
Heat grill on high. Cut the top off the garlic bulb (not the root end). Place the garlic on a piece of aluminum foil, drizzle with olive oil, and close foil around garlic to seal. Place on grill. Close cover of grill and cook for about 20-25 minutes. Remove from grill and allow to cool until able to handle. Squeeze garlic cloves out of bulb into bowl of a processor.

To garlic, add all ingredients for herb and lemon sauce. Process until smooth and reserve.

Place rosemary and thyme under chicken skin. Season chicken with salt and pepper. Place chicken, skin side down on grill. Grill for 5 minutes then turn. Close grill, reduce heat to medium, and continue to grill for 25-30 minutes or until an instant read thermometer inserted into the thickest part of the thigh reads 165°F (74°C).

Remove from grill and place chicken on a cutting board. Allow chicken to rest for 15 minutes. Place on serving dish and drizzle generously with herb and lemon sauce.

Garnish with fresh lemon slices and parsley sprigs. Serve.
Nutrition Info
| Per 535 g serving | Amount |
| --- | --- |
| Calories | 960 |
| Protein | 98 g |
| Fat | 58 g |
| Saturated Fat | 10 g |
| Carbohydrate | 7 g |
| Fibre | 2 g |
| Cholesterol | 320 mg |
| Sodium | 940 mg |
| Per 535 g serving | % Daily Value |
| --- | --- |
| Potassium | 35 |
| Calcium | 10 |
| Iron | 35 |
| Vitamin A | 25 |
| Vitamin C | 60 |
| Vitamin B6 | 116 |
| Vitamin B12 | 84 |
| Folate | 24 |
| Zinc | 81 |