Apple Cider Poached Chicken & Arugula Salad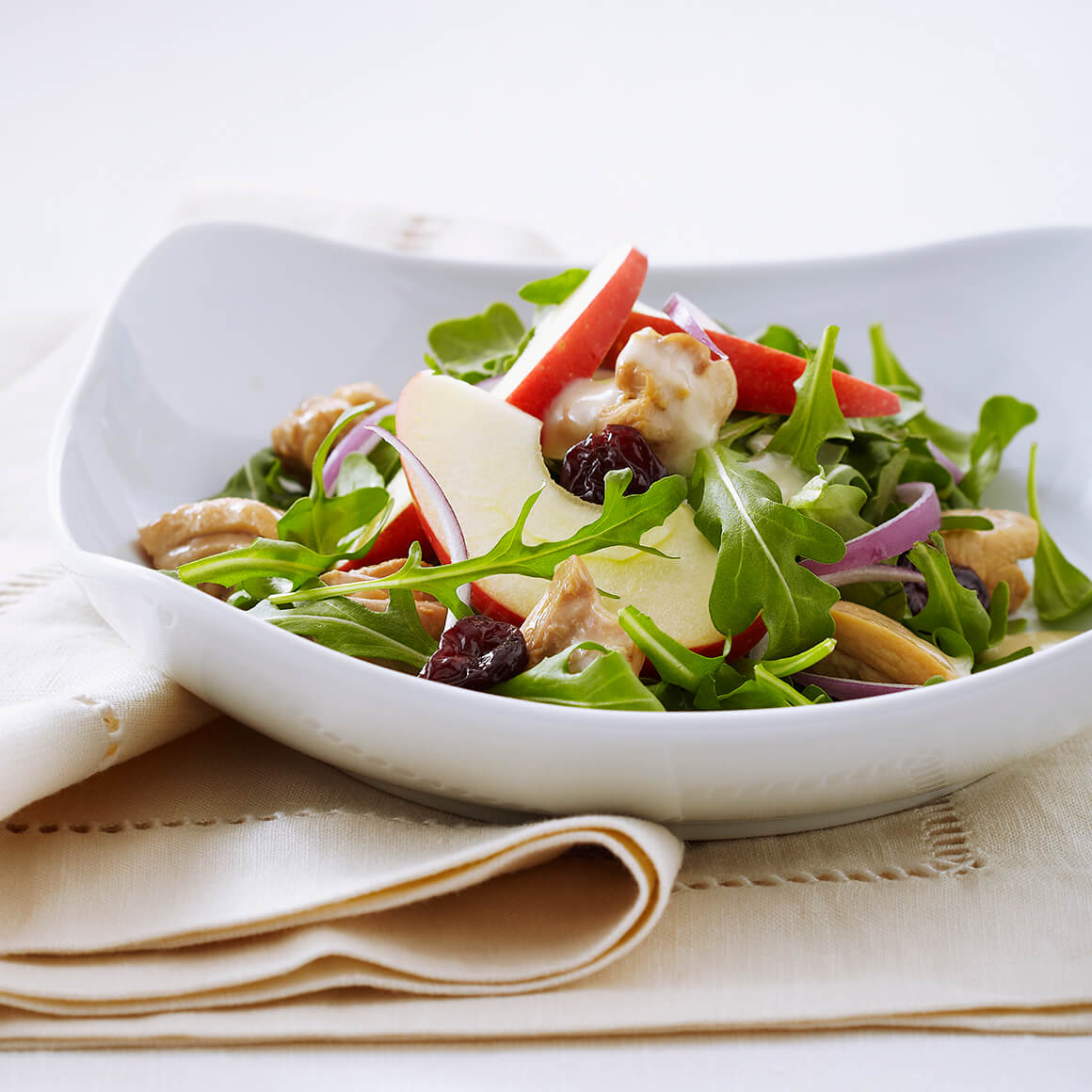 Tart cherries, sharp cheese, and bitter arugula work together in this delectable salad to complement the familiar flavours of cider-poached chicken. As a light lunch, this salad will make you feel like you're dining in a bistro. Serve alongside a soup at dinner and you have a delicious meal you'll feel like making again and again.
Ingredients
1 lb
boneless, skinless chicken thighs
1 cup
red onion(s), sliced (optional garnish)
2
Gala apples, large (optional garnish)
3
Gala apples, small (optional garnish)
½ cup
dried tart Montmorency cherries, (optional garnish)
Food Safety
Before you start, wash all surfaces and your hands with soap and warm water, and remember to wash your hands, utensils and cutting boards after they touch raw meat or eggs. Avoid cross-contamination by using a different cutting board for your meat and other ingredients. Make sure you're cooking to safe temperatures and chilling any leftovers within two hours. For more food safety tips, visit our Food Safety at Home Section.
Steps
Cut chicken thighs into 1" (2.5 cm) size pieces. Add to small pot with apple cider, cinnamon stick and star anise. Bring to a boil, reduce heat and simmer until chicken is cooked through; about 15 minutes. Remove meat from poaching liquid to cool. Reserve ½ cup (125 mL) of the poaching liquid and discard or freeze for another use.

Make vinaigrette by blending the remaining ½ cup (125 mL) of the poaching liquid with apple cider vinegar, olive oil, minced garlic, Dijon mustard, salt, honey and Brebis cheese in a food processor or blender.

Wash arugula and drain well. Divide in four and plate.

To serve, top with apple poached chicken, sliced red onion, apple slices and dried cherries. Drizzle with vinaigrette. Serve extra dressing on the side.
Helpful Tip
This tasty salad features apple cider poached chicken, arugula greens and Brebis cheese. Arugula is a leafy green of the mustard family also known as rocket (roquette). Like other salad greens it is low in calories and high in vitamin A and vitamin C. Brebis is a creamy, soft unripened French cheese that is made with sheep's milk. It has a rich, tangy flavour and is creamier texture than traditional Greek cheese. Feta, or even cream cheese, can be substituted for the Brebis but you really should try it!
Nutrition Info
| Per 370 g serving | Amount |
| --- | --- |
| Calories | 380 |
| Protein | 25 g |
| Fat | 15 g |
| Saturated Fat | 3.5 g |
| Carbohydrate | 40 g |
| Fibre | 3 g |
| Sugar | 23 g |
| Cholesterol | 100 mg |
| Sodium | 310 mg |
| Per 370 g serving | % Daily Value |
| --- | --- |
| Potassium | 18 |
| Calcium | 10 |
| Iron | 15 |
| Vitamin A | 30 |
| Vitamin C | 25 |
| Vitamin B6 | 28 |
| Vitamin B12 | 23 |
| Folate | 28 |
| Zinc | 28 |