Whole Roasted Chicken with Sage Butter and Maple Walnut Stuffing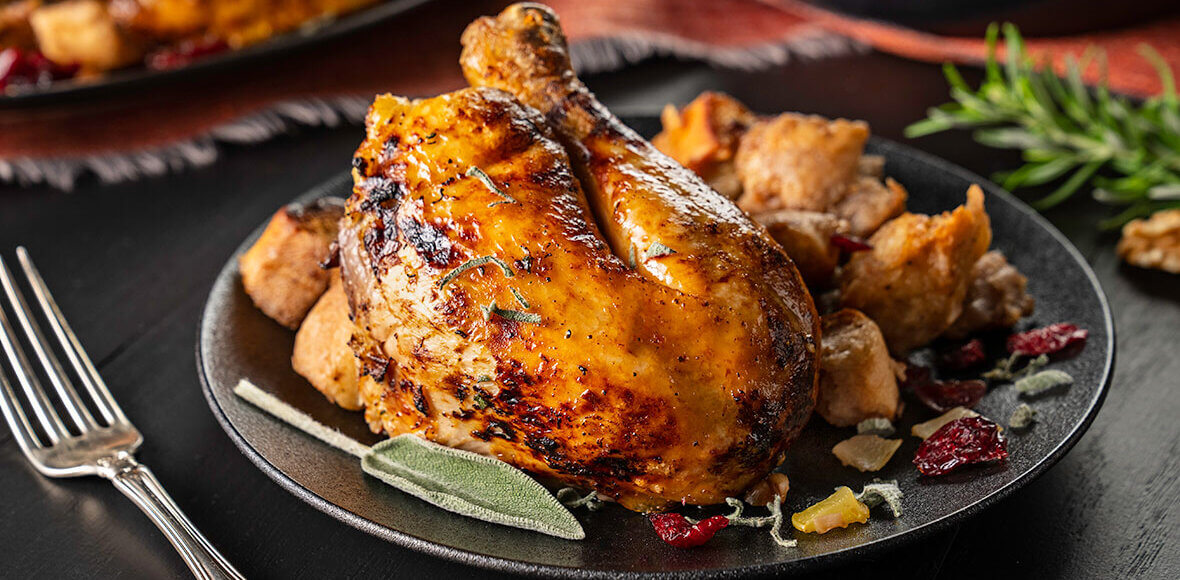 A stuffed whole roasted chicken turns meal time into something spectacular. Serve with your family favorite side dishes and your dinner is complete.
Ingredients
Roasted Chicken with Sage Butter
6
leaves sage, fresh, chopped
1 tsp
hot red chili pepper flakes
Stuffing
1
onion(s), medium, diced
½ cup
walnuts, toasted, coarsely chopped
¼ cup
cranberries, fresh or dried
6 cups
French bread, cubed
Food Safety
Before you start, wash all surfaces and your hands with soap and warm water, and remember to wash your hands, utensils and cutting boards after they touch raw meat or eggs. Avoid cross-contamination by using a different cutting board for your meat and other ingredients. Make sure you're cooking to safe temperatures and chilling any leftovers within two hours. For more food safety tips, visit our Food Safety at Home Section.
Steps
In a large skillet, heat oil on medium heat. Sauté onion and celery until softened. Add walnuts, cranberries, maple syrup and stock; combine well. Sauté for two minutes and remove from heat. Season to taste with salt and pepper; toss mixture well with cubed bread. Set aside.

Preheat oven to 375°F (190°C).

In a small bowl, combine butter, garlic, sage, orange zest and chili flakes. Set aside

Remove giblets and neck from chicken; discard or reserve for another use. Season the chicken cavity with salt and pepper. With your fingers, gently loosen the skin as far back as possible on each breast. Rub half the butter mixture under the skin and rub the remaining mixture over the legs and thighs. Stuff the cavity with the bread mixture. If desired, tie legs together with string; tuck wings under back. Place chicken, breast side up, on rack in shallow roasting pan.

Roast for about 20 to 22 minutes per pound, or until juices run clear when chicken is pierced and meat thermometer inserted in the thickest part of the thigh reaches 180°F (82°C). Transfer to platter and tent with foil; let stand for 15 minutes. Remove stuffing to serving bowl and carve chicken.
Helpful Tip
Always stuff chicken right before roasting. Once cooked, remove stuffing and serve alongside the chicken. Cover and refrigerate leftover stuffing in a bowl.
Nutrition Info
| Per 370 g serving | Amount |
| --- | --- |
| Calories | 870 |
| Protein | 53 g |
| Fat | 60 g |
| Saturated Fat | 18 g |
| Carbohydrate | 27 g |
| Fibre | 2 g |
| Sugar | 7 g |
| Cholesterol | 220 mg |
| Sodium | 400 mg |
| Per 370 g serving | % Daily Value |
| --- | --- |
| Potassium | 20 |
| Calcium | 8 |
| Iron | 25 |
| Vitamin A | 15 |
| Vitamin C | 6 |
| Vitamin B6 | 56 |
| Vitamin B12 | 45 |
| Folate | 28 |
| Zinc | 40 |