Three Cheese Chicken Lasagna Roll Ups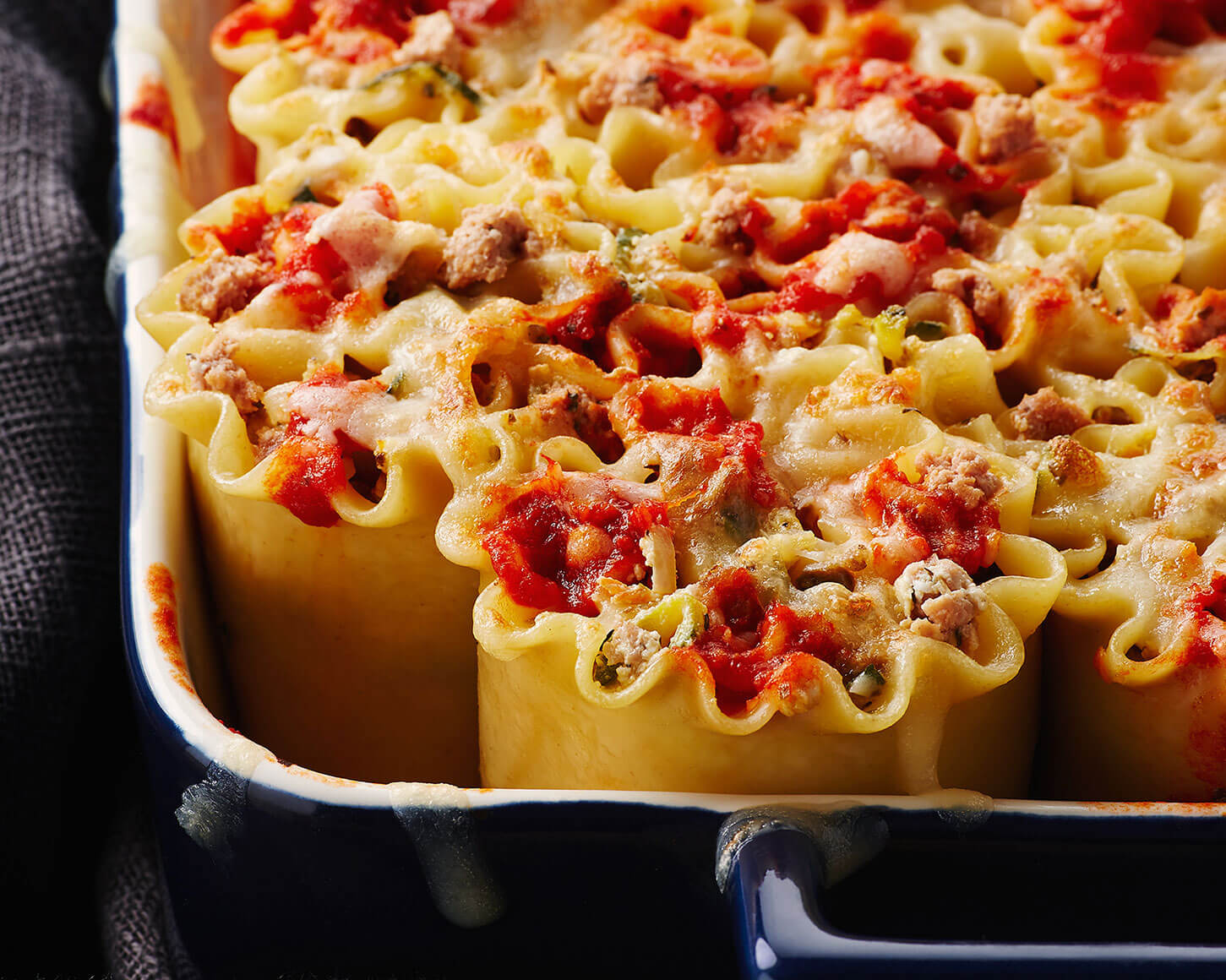 These healthy lasagna roll ups are a great way to get your kids to eat their vegetables and they're perfect served for lunch the next day.
Ingredients
1
zucchini, small, grated
4 oz
cream cheese, cut into cubes
½ cup
Parmesan cheese, freshly grated
2 cups
your favorite spaghetti sauce
black pepper, freshly ground
1 cup
mozzarella cheese, grated
Food Safety
Before you start, wash all surfaces and your hands with soap and warm water, and remember to wash your hands, utensils and cutting boards after they touch raw meat or eggs. Avoid cross-contamination by using a different cutting board for your meat and other ingredients. Make sure you're cooking to safe temperatures and chilling any leftovers within two hours. For more food safety tips, visit our Food Safety at Home Section.
Steps
Preheat oven to 350°F (175°C).

In a pot of boiling salted water, cook the lasagna noodles according to package directions. Run under cool water once you have drained them and set aside.

Meanwhile, heat up some oil in a skillet and sauté ground chicken over medium heat until no longer pink. Remove from the skillet and set aside. In the same pan, add a little more oil and sauté the onion and garlic until soft and translucent. Stir in the zucchini, carrot, and mushrooms and continue to sauté until tender. Stir in the oregano, basil, salt and pepper, then add the chicken back into the pan and stir. Turn the heat down to medium-low and add the cream cheese cubes, moving them around and stirring until they melt into the meat and vegetables. Remove from the heat and allow to cool slightly.

Transfer the chicken and vegetable mixture to a bowl then stir in the cottage cheese and ¼ cup (60 mL) of the Parmesan. Put the bowl in the fridge and let it cool for about 20 minutes.

Spoon about 1 cup of spaghetti sauce into the bottom of a 9×13 inch pan, or just enough to coat the bottom. When your filling is cool, you can assemble the roll ups. Lay a noodle in front of you and spoon a few tablespoons of filling onto it. Spread over the entire noodle. Starting at one end, roll it up. Some filling will drop out the sides or the end, but that's okay. Set the filled noodle seam side down on top of the spaghetti sauce in the dish, and continue until you have filled all the noodles. Spoon the remaining spaghetti sauce over top and sprinkle with mozzarella and remaining Parmesan.

Bake for about 30 minutes until everything is bubbly and hot, then remove from the oven and let it sit for about another five minutes or so before you serve it.
Nutrition Info
| Per 380 g serving | Amount |
| --- | --- |
| Calories | 560 |
| Protein | 39 g |
| Fat | 22 g |
| Saturated Fat | 6 g |
| Carbohydrate | 53 g |
| Fibre | 10 g |
| Sugar | 7 g |
| Cholesterol | 85 mg |
| Sodium | 550 mg |
| Per 380 g serving | % Daily Value |
| --- | --- |
| Potassium | 16 |
| Calcium | 30 |
| Iron | 25 |
| Vitamin A | 4 |
| Vitamin C | 15 |
| Vitamin B6 | 11 |
| Vitamin B12 | 32 |
| Folate | 9 |
| Zinc | 16 |