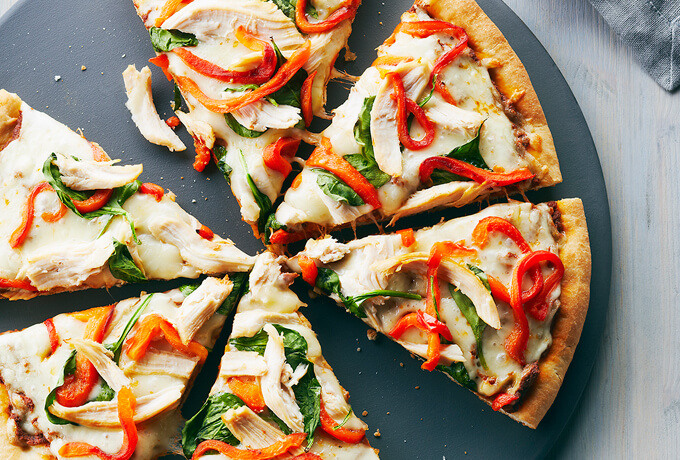 This pizza gets a bold smoky flavour from a unique North African spice paste called Harissa. This sauce lends itself perfectly to this pizza's delightful combination of crust and melted mozzarella cheese. If you like milder flavours, then make sure to use half the amount of cayenne pepper.
Ingredients
Pizza
1
chicken breast(s), cooked, thinly sliced or shredded
2 cups
mozzarella cheese, grated
1 cup
baby spinach, washed and dried (packed)
1
roasted red pepper(s), sliced
Harissa
1 tsp
cayenne pepper, for milder flavour
2 tbsp
extra virgin olive oil
Food Safety
Before you start, wash all surfaces and your hands with soap and warm water, and remember to wash your hands, utensils and cutting boards after they touch raw meat or eggs. Avoid cross-contamination by using a different cutting board for your meat and other ingredients. Make sure you're cooking to safe temperatures and chilling any leftovers within two hours. For more food safety tips, visit our Food Safety at Home Section.
Steps
Prepare the Harissa by combining the tomato paste, cayenne pepper, cumin, lime juice, olive oil and salt in a bowl. Set aside for at least 15 minutes and up to 2 days before using.

Preheat the oven according to packaged pizza crust directions.

Assemble the pizza by spreading Harissa on the pizza and leaving a 1-inch border around the edge. Sprinkle the Harissa with the shredded cheese.

Divide the chicken, spinach and roasted red pepper slices evenly over the cheese.

Cook the pizza according to the directions until the cheese is bubbly and completely melted, about 15 minutes.

Carefully remove the pizza from the oven, cut into 8-10 slices and serve immediately.
Nutrition Info
| Per 280 g serving | Amount |
| --- | --- |
| Calories | 600 |
| Protein | 37 g |
| Fat | 24 g |
| Saturated Fat | 8 g |
| Carbohydrate | 62 g |
| Fibre | 8 g |
| Sugar | 8 g |
| Cholesterol | 55 mg |
| Sodium | 1120 mg |
| Per 280 g serving | % Daily Value |
| --- | --- |
| Potassium | 17 |
| Calcium | 60 |
| Iron | 45 |
| Vitamin A | 50 |
| Vitamin C | 45 |
| Vitamin B6 | 18 |
| Vitamin B12 | 28 |
| Folate | 3 |
| Zinc | 24 |