Quick and Easy Chicken Zoodle Soup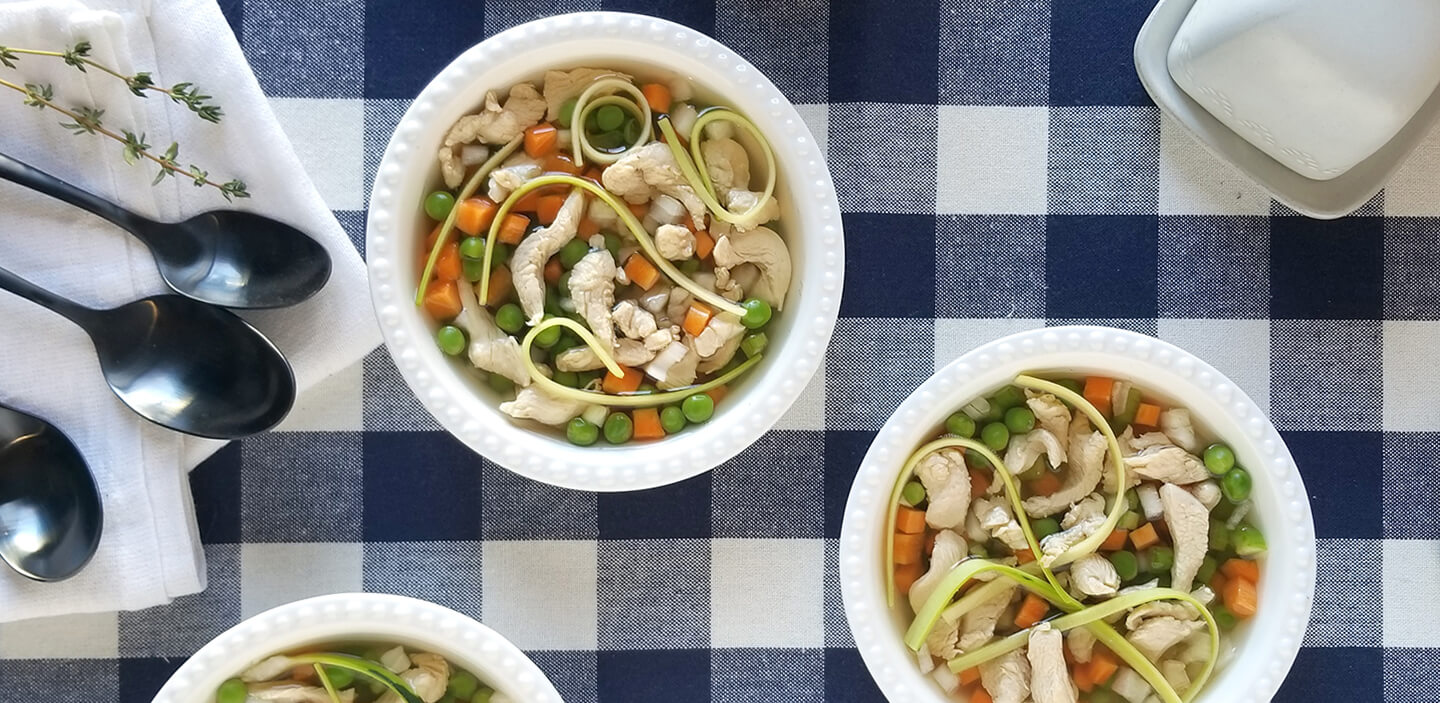 This classic chicken noodle soup is made with zucchini noodles and is a perfect cold day meal for anyone following a gluten free or low carb diet.
Ingredients
1 lb
(500 g) boneless, skinless, chicken breast
8 cups
(2 L) chicken broth
½ tsp
(2 mL) dried rosemary
½ tsp
(2 mL) black pepper
2 cups
(500 ml) spiralized zucchini "noodles"
1 cup
(250 mL) green peas
1 cup
(250 mL) diced carrots
1 cup
(250 mL) diced celery
Food Safety
Before you start, wash all surfaces and your hands with soap and warm water, and remember to wash your hands, utensils and cutting boards after they touch raw meat or eggs. Avoid cross-contamination by using a different cutting board for your meat and other ingredients. Make sure you're cooking to safe temperatures and chilling any leftovers within two hours. For more food safety tips, visit our Food Safety at Home Section.
Steps
Cut chicken into bite-size strips. In a large pot, bring broth to a boil over medium-high heat. Reduce heat to medium and stir in chicken, bay leaves, thyme, rosemary and pepper. Allow the mixture to simmer for 5 minutes or until chicken is completely cooked through.

Stir in zucchini noodles, green peas, onion, carrots and celery. Cook for another 10 minutes. Remove bay leaves and ladle soup into individual bowls to serve. Soup will keep well for 2 days in the refrigerator.
Nutrition Info
| Per serving | Amount |
| --- | --- |
| Calories | 241 |
| Protein | 35 g |
| Fat | 5 g |
| Saturated Fat | 1.4 g |
| Carbohydrate | 13 g |
| Fibre | 3 g |
| Sugar | 6 g |
| Cholesterol | 50 mg |
| Sodium | 2173 mg |
| Per serving | % Daily Value |
| --- | --- |
| Potassium | 22 |
| Calcium | 9 |
| Iron | 15 |
| Vitamin A | 42 |
| Vitamin C | 83 |
| Vitamin B6 | 59 |
| Vitamin B12 | 20 |
| Folate | 15 |
| Zinc | 24 |