Prosciutto Wrapped Chicken Thighs with Curry Sauce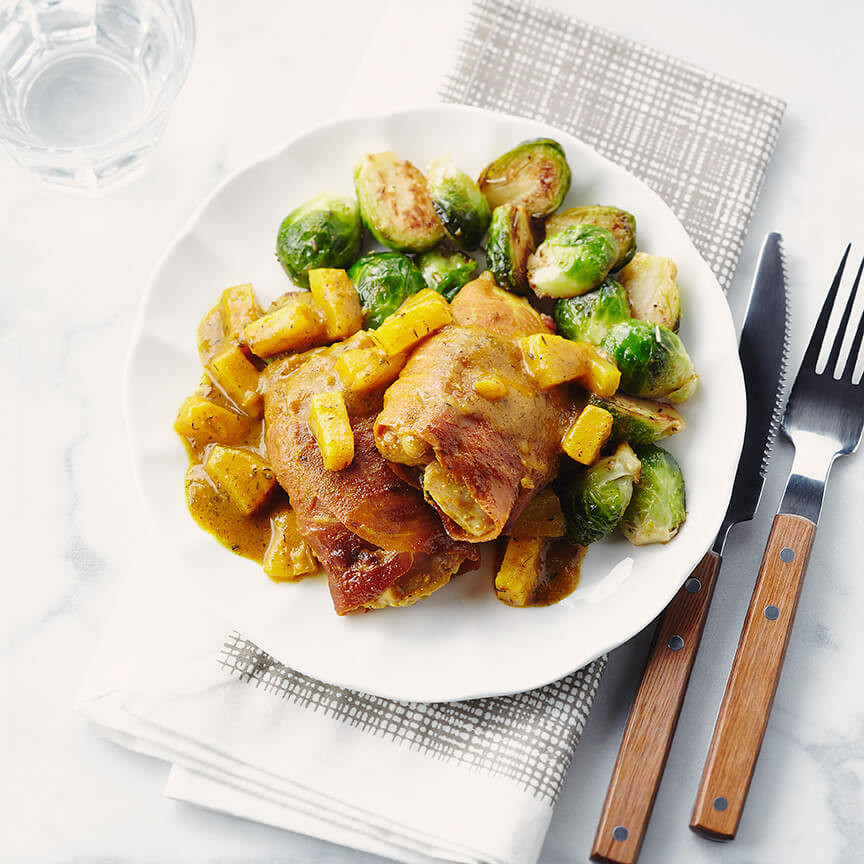 If you're looking for something a little different, then here's a recipe that is guaranteed to get you out of your cooking rut.
Ingredients
8
slices of prosciutto cut thin (enough to wrap the chicken thighs)
14 oz
can diced pineapple in juice
Food Safety
Before you start, wash all surfaces and your hands with soap and warm water, and remember to wash your hands, utensils and cutting boards after they touch raw meat or eggs. Avoid cross-contamination by using a different cutting board for your meat and other ingredients. Make sure you're cooking to safe temperatures and chilling any leftovers within two hours. For more food safety tips, visit our Food Safety at Home Section.
Steps
Wrap prosciutto around chicken thighs.

In a large skillet saute wrapped chicken in butter until the outside is golden brown. Add pineapple, thyme and curry powder to the skillet and let the chicken cook gently until done. Remove chicken from skillet.

Mix corn starch with two tablespoons of water until dissolved and slowly add back to the sauce mixture. Stir until thickened.

Spoon sauce over chicken thighs and serve.