Moroccan Chicken Basteeya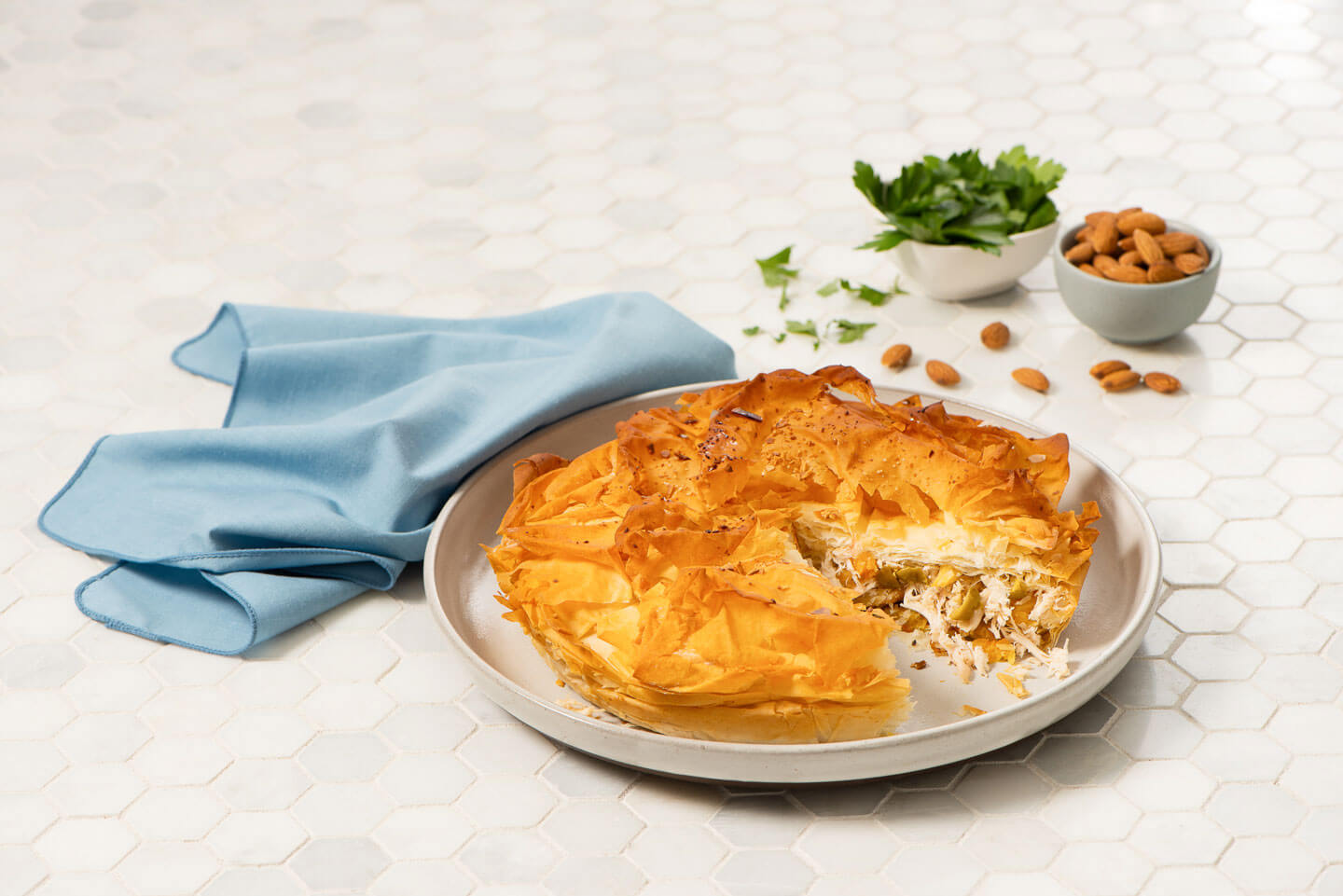 Video Title:
How to make: Moroccan Chicken Basteeya
Basteeya (or pastilla) is sweet and savoury pie wrapped in a phyllo-type pastry that is popular in Moroccan cuisine. It's an excellent way to use up leftover chicken. 
Ingredients
2 tsp
grated fresh ginger
2 cups
shredded dark meat
¼ cup
chopped dried apricots
¼ cup
chopped green olives
½ tsp
each salt and pepper
2 tbsp
chopped fresh cilantro
2 tbsp
chopped fresh parsley
¼ cup
whole toasted almonds
⅓ cup
butter, melted
Food Safety
Before you start, wash all surfaces and your hands with soap and warm water, and remember to wash your hands, utensils and cutting boards after they touch raw meat or eggs. Avoid cross-contamination by using a different cutting board for your meat and other ingredients. Make sure you're cooking to safe temperatures and chilling any leftovers within two hours. For more food safety tips, visit our Food Safety at Home Section.
Steps
Heat oil in large, nonstick skillet set over medium-high heat; cook onion for about 5 minutes or until tender. Stir in garlic, ginger, hot pepper flakes and saffron; cook for about 2 minutes or until fragrant. Stir in chicken, chicken broth, apricots, olives, lemon juice, cinnamon stick, salt and pepper. Simmer for about 10 minutes or until liquid has evaporated. Let cool completely; discard cinnamon stick.

Whisk together eggs, cilantro and parsley; stir into chicken mixture. Set aside. In food processor, combine almonds, icing sugar and cinnamon; pulse until finely chopped. 

Preheat oven to 375°F (190°C). Grease 9-inch (23 cm) deep dish pie plate. Brush 1 sheet of phyllo with butter (keep remaining phyllo covered with damp tea towel to prevent it from drying out); top with another sheet of phyllo. Repeat to make 4 layers. Place layered phyllo in centre of pie plate, pressing to fit. Scrape chicken filling over phyllo; fold corners toward centre of pie (phyllo should not cover filling completely).

Drape sheet of phyllo over filling; brush with butter and sprinkle with some of the almond mixture. Repeat layers with remaining phyllo, butter and almond mixture. Carefully tuck edges into pie plate, under bottom layers of phyllo.

Bake for about 30 minutes or until very golden brown. Let stand for 5 minutes before cutting into wedges. 
Helpful Tip
Tip: For shredded chicken, use leftover roast chicken or chicken legs poached in chicken broth.
Nutrition Info
| Per 150 g serving | Amount |
| --- | --- |
| Calories | 380 |
| Protein | 17 g |
| Fat | 25 g |
| Saturated Fat | 9 g |
| Carbohydrate | 23 g |
| Fibre | 2 g |
| Sugar | 5 g |
| Cholesterol | 130 mg |
| Sodium | 600 mg |
| Per 150 g serving | % Daily Value |
| --- | --- |
| Potassium | 10 |
| Calcium | 4 |
| Iron | 15 |
| Vitamin A | 15 |
| Vitamin C | 10 |
| Vitamin B6 | 15 |
| Folate | 20 |
| Zinc | 20 |