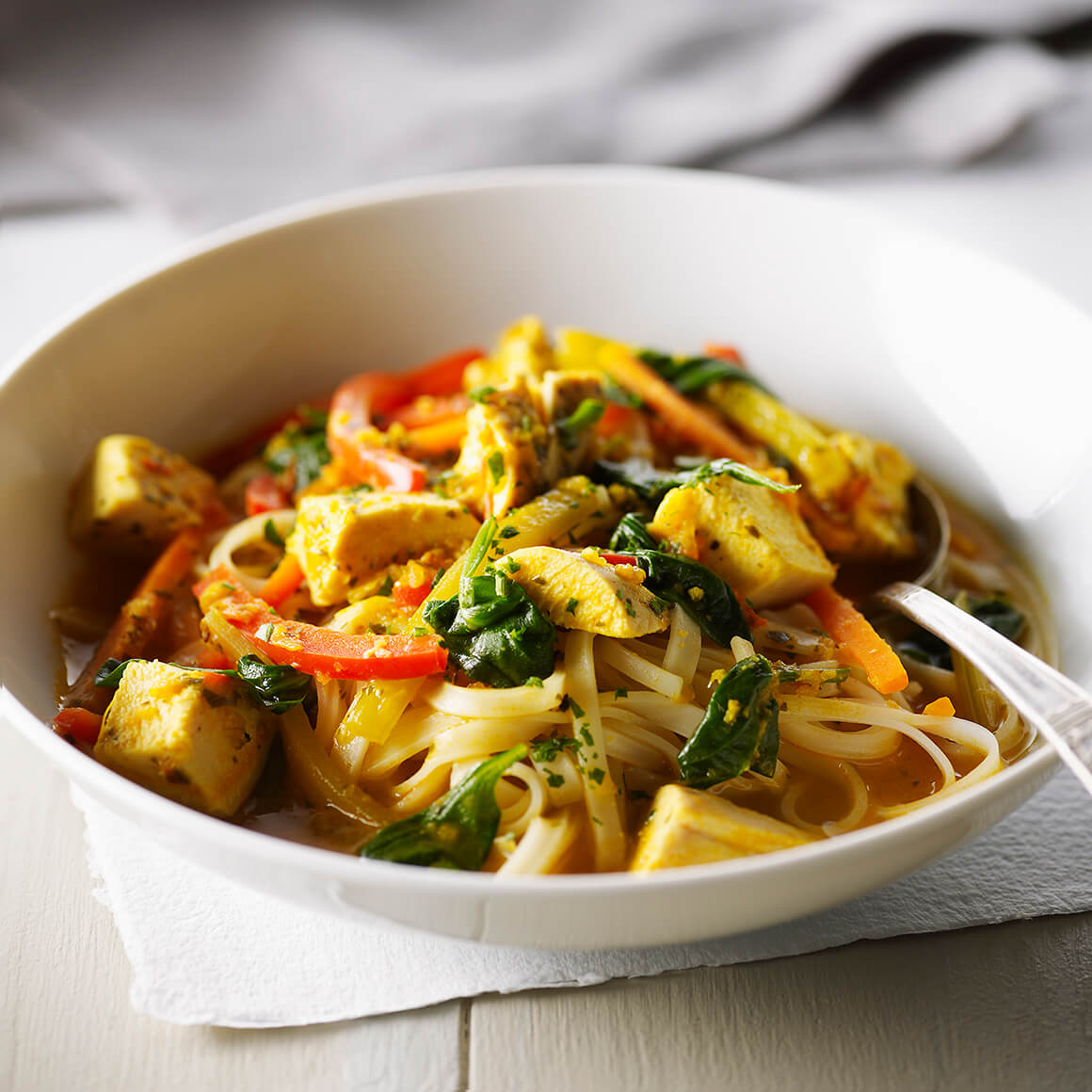 Thukpa is a Himalayan noodle soup, usually served with meat and is really delicious with lean chicken. It is popular in Tibet, Bhutan, Nepal, and some parts of India. "Thuk" means heart so it is a heart warming dish. In Bhutan it would usually be made with buckwheat noodles
Ingredients
½ cup
carrot(s), julienned
½
red pepper(s), medium, julienned
2 cups
baby spinach, fresh
3 cups
chicken breast(s), leftover or deli roasted
6 cups
low-sodium chicken broth
1 tbsp
red hot chili pepper(s)
½ cup
cherry tomatoes, fresh
½ tsp
Szechwan pepper (Timur)
½ tsp
black pepper, freshly ground
½ tsp
black pepper, freshly ground
1 pinch
asafoetida powder
¼ cup
cilantro, fresh, minced
Food Safety
Before you start, wash all surfaces and your hands with soap and warm water, and remember to wash your hands, utensils and cutting boards after they touch raw meat or eggs. Avoid cross-contamination by using a different cutting board for your meat and other ingredients. Make sure you're cooking to safe temperatures and chilling any leftovers within two hours. For more food safety tips, visit our Food Safety at Home Section.
Steps
Cut carrots, peppers and celery into julienne thin strips about 2 inch long (5 cm) and ¼ inch wide (0.5 cm). Measure out baby spinach and set aside.

Cut leftover roast chicken into bite size pieces and set aside. You can also poach chicken breast or thighs in the broth at this step if you do not have leftover chicken.

Heat chicken broth in a pot, add dry rice noodles and turn off heat. Leave 10 minutes until softened. Remove noodles from broth so they do not over-cook. Reserve broth.

Make soup paste by combining garlic, ginger, hot chili pepper, cherry tomatoes, shallots, cilantro, ground cumin, ground turmeric, Szechwan pepper (timur), asafoetida powder and lime juice in blender or food processor. Blend until smooth.

Heat oil in soup pot. Add soup paste and fry for 30 seconds or so. Pour in chicken broth and mix well. Bring to a boil and reduce heat to low. Add prepared vegetables and chicken and simmer five minutes or until carrots are tender. Season with salt and pepper.

To serve, divide rice noodles between bowls. Pour soup over and garnish with fresh cilantro.
Helpful Tip
The recipe calls for Szechwan pepper (also known as Nepali pepper or timur) and it can be found in Oriental stores. If you do not have it, increase the amount of freshly ground black pepper to suit your taste. Szechwan pepper (pimpinella anisum) is native to the Szechwan province of China. Although it looks similar to black pepper it is actually the dried berry of a tree in the prickly ash family.
Asafoetida (ah-sah-FEH-teh-dah) is a pungent resinous gum used widely in Indian vegetarian cooking. The powder resin is usually mixed with flour to provide bulk and is sold in bright yellow plastic tubs. If you do not have it, add a bit more lime juice to the soup to suit your taste. Omit for a gluten free version.
Nutrition Info
| Per 400 g serving | Amount |
| --- | --- |
| Calories | 330 |
| Protein | 29 g |
| Fat | 6 g |
| Saturated Fat | 1 g |
| Carbohydrate | 40 g |
| Fibre | 2 g |
| Sugar | 2 g |
| Cholesterol | 55 mg |
| Sodium | 420 mg |
| Per 400 g serving | % Daily Value |
| --- | --- |
| Potassium | 18 |
| Calcium | 4 |
| Iron | 10 |
| Vitamin A | 50 |
| Vitamin C | 45 |
| Vitamin B6 | 30 |
| Vitamin B12 | 24 |
| Folate | 7 |
| Zinc | 15 |