Chicken and Eggs Breakfast Skillet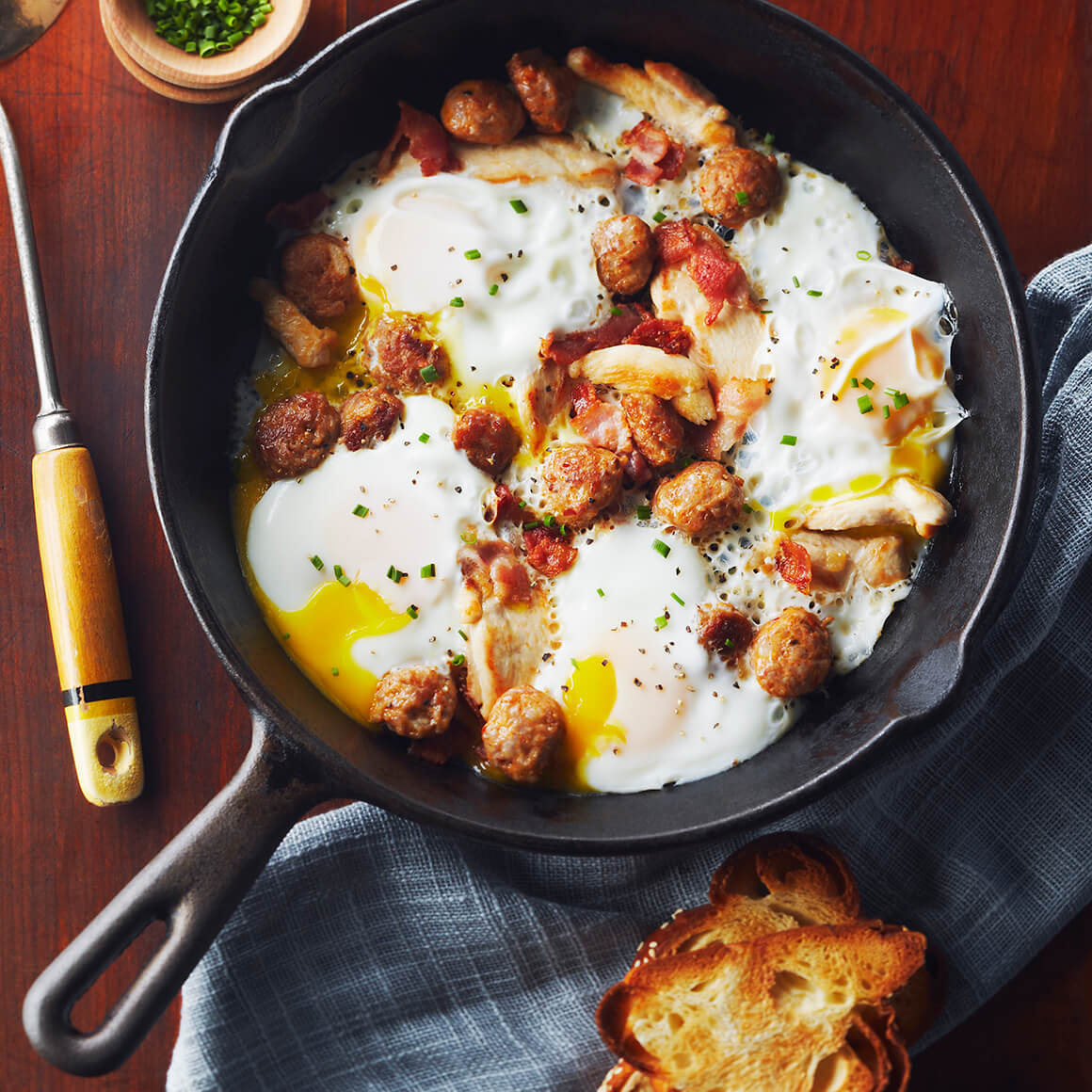 This one skillet breakfast is such a treat on the weekend. The combination of sausage and bacon can be substituted for just about anything. For those looking for a healthier option try folding in spinach, tomatoes and onions. If you are the type of person that likes an indulgent Saturday brunch, try topping this skillet with cheese for an added creamy kick! This is also a great dish for finishing up leftovers in the fridge.
Ingredients
1 tbsp
extra virgin olive oil
½ cup
Italian sausage, sliced
½
chicken breast(s), sliced
2
slices bacon, cut crosswise into ½ inch pieces
Food Safety
Before you start, wash all surfaces and your hands with soap and warm water, and remember to wash your hands, utensils and cutting boards after they touch raw meat or eggs. Avoid cross-contamination by using a different cutting board for your meat and other ingredients. Make sure you're cooking to safe temperatures and chilling any leftovers within two hours. For more food safety tips, visit our Food Safety at Home Section.
Steps
Heat a 6-8 inch non-stick skillet over medium-high heat. Add the olive oil and let it preheat.

Add the sausage, chicken and bacon to the skillet. Stir until all the meat has browned slightly and is no longer raw, about 8 minutes.

Crack the four eggs in the skillet making sure to break the yolks slightly with a spatula. Cover and cook until the whites are fully cooked, about 12 minutes.

Season with salt and pepper and sprinkle with freshly chopped chives. Remove from the skillet and slice into wedges. Serve immediately.
Nutrition Info
| Per 190 g serving | Amount |
| --- | --- |
| Calories | 430 |
| Protein | 37 g |
| Fat | 29 g |
| Saturated Fat | 8 g |
| Carbohydrate | 2 g |
| Sugar | 1 g |
| Cholesterol | 400 mg |
| Sodium | 880 mg |
| Per 190 g serving | % Daily Value |
| --- | --- |
| Potassium | 13 |
| Calcium | 6 |
| Iron | 10 |
| Vitamin A | 2 |
| Vitamin C | 2 |
| Vitamin B6 | 28 |
| Vitamin B12 | 86 |
| Folate | 3 |
| Zinc | 26 |