Chicken and Cheese Breakfast Muffins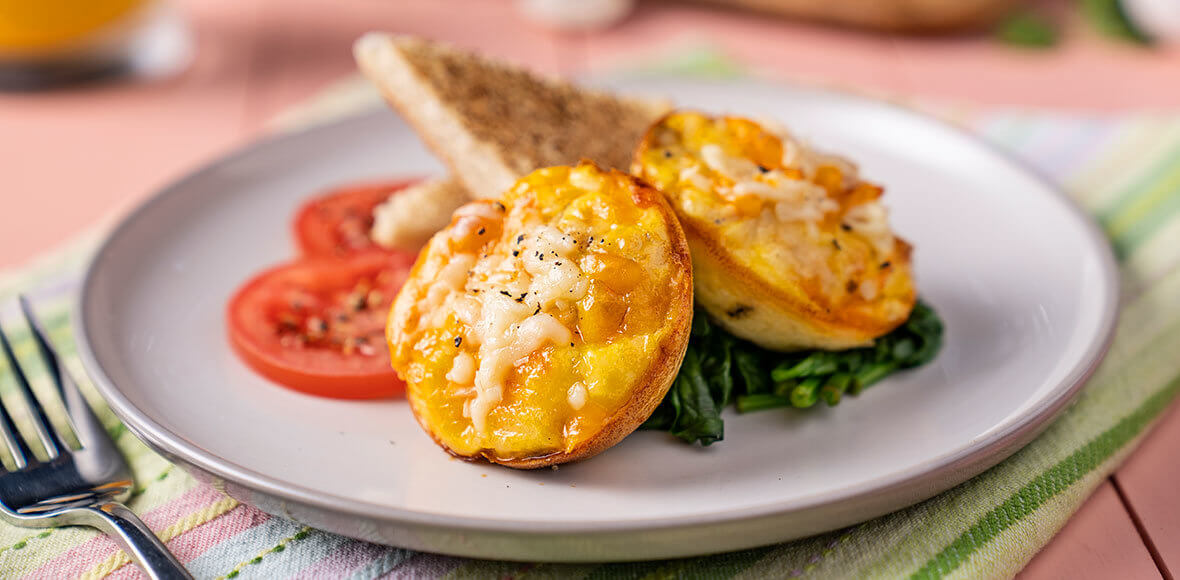 These unique "muffins" are a protein-rich way to start your day! Combining eggs, cheese, and chicken, these are perfectly portable for breakfast on the run.
Ingredients
1 cup
chicken, cooked, chopped
¼ cup
onions, finely-chopped
1 cup
marble cheese, grated
6
English muffins, whole wheat
Food Safety
Before you start, wash all surfaces and your hands with soap and warm water, and remember to wash your hands, utensils and cutting boards after they touch raw meat or eggs. Avoid cross-contamination by using a different cutting board for your meat and other ingredients. Make sure you're cooking to safe temperatures and chilling any leftovers within two hours. For more food safety tips, visit our Food Safety at Home Section.
Steps
Preheat the oven to 350°F (175°C).

Melt butter in a non-stick skillet. Sauté the red pepper, onion and sliced mushrooms for three minutes. Add cooked chopped chicken and stir to heat through – about 2 more minutes.

Spoon the mixture into a bowl and cool slightly. Beat eggs and combine with milk and half of the shredded cheese. Stir into the cooled chicken and vegetable mixture.

Coat a 6-cup non-stick muffin pan with cooking spray or line with paper baking cups. Pour egg mixture into greased muffin cups, dividing evenly. Sprinkle with the other half of remaining shredded cheese.

Bake for 20-25 minutes or until egg is set. Remove from the oven and let stand to cool five minutes.

Serve with the toasted whole wheat English muffins.
Helpful Tip
No time to eat breakfast in the morning? Try these egg "muffins" for a quick, healthy breakfast that can be eaten on the run. Make them ahead and warm them in the microwave for a fast and healthy breakfast treat. Top with salsa for extra zing!
Nutrition Info
| Per 190 g serving | Amount |
| --- | --- |
| Calories | 330 |
| Protein | 23 g |
| Fat | 12 g |
| Saturated Fat | 6 g |
| Carbohydrate | 31 g |
| Fibre | 3 g |
| Sugar | 4 g |
| Cholesterol | 180 mg |
| Sodium | 420 mg |
| Per 190 g serving | % Daily Value |
| --- | --- |
| Potassium | 11 |
| Calcium | 20 |
| Iron | 15 |
| Vitamin A | 10 |
| Vitamin C | 30 |
| Vitamin B6 | 14 |
| Vitamin B12 | 35 |
| Folate | 21 |
| Zinc | 16 |