Speedy Breakfast Quesadilla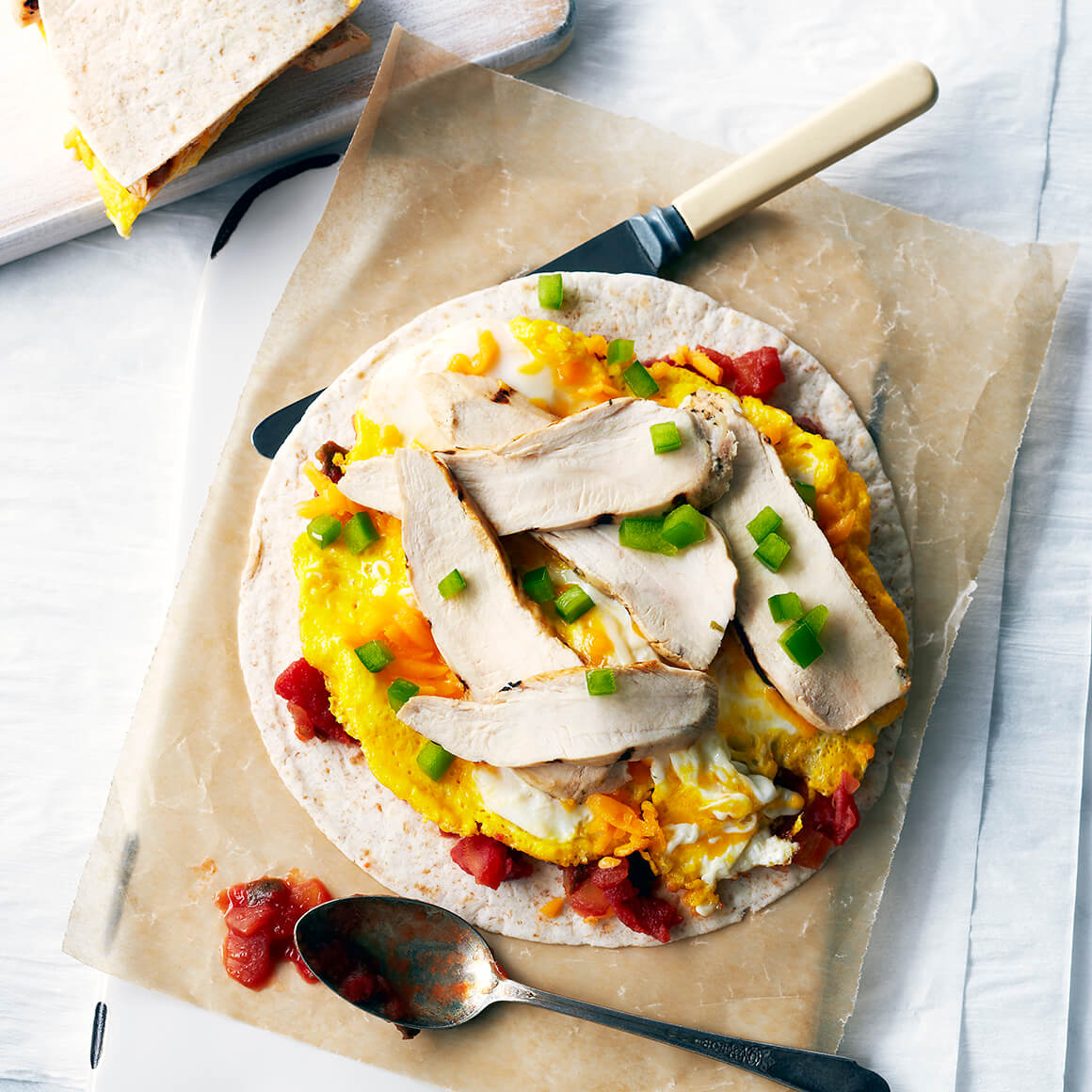 This healthy, protein-rich dish makes the perfect breakfast on the go! It's an excellent way to brighten up a hectic morning.
Ingredients
8 oz
chicken, cooked, sliced
4 tbsp
cheddar cheese, grated
1 tbsp
green pepper, chopped
1
whole wheat tortilla, 8 inch
Food Safety
Before you start, wash all surfaces and your hands with soap and warm water, and remember to wash your hands, utensils and cutting boards after they touch raw meat or eggs. Avoid cross-contamination by using a different cutting board for your meat and other ingredients. Make sure you're cooking to safe temperatures and chilling any leftovers within two hours. For more food safety tips, visit our Food Safety at Home Section.
Steps
Scramble egg in frying pan.

Layer egg, cheese, salsa, green pepper and chicken over whole-wheat tortilla.

Roll or fold the tortilla and enjoy!
Nutrition Info
| Per serving | Amount |
| --- | --- |
| Calories | 312 |
| Protein | 22.5 g |
| Fat | 16.5 g |
| Saturated Fat | 8.2 g |
| Carbohydrate | 0.5 g |
| Fibre | 3.2 g |
| Cholesterol | 230.2 mg |
| Sodium | 981.2 mg |
| Per serving | % Daily Value |
| --- | --- |
| Potassium | 18 |
| Calcium | 254.8 |
| Iron | 2.1 |
| Vitamin A | 996.5 |
| Vitamin C | 12.2 |