Greek Yogurt Chicken & Lemon Rice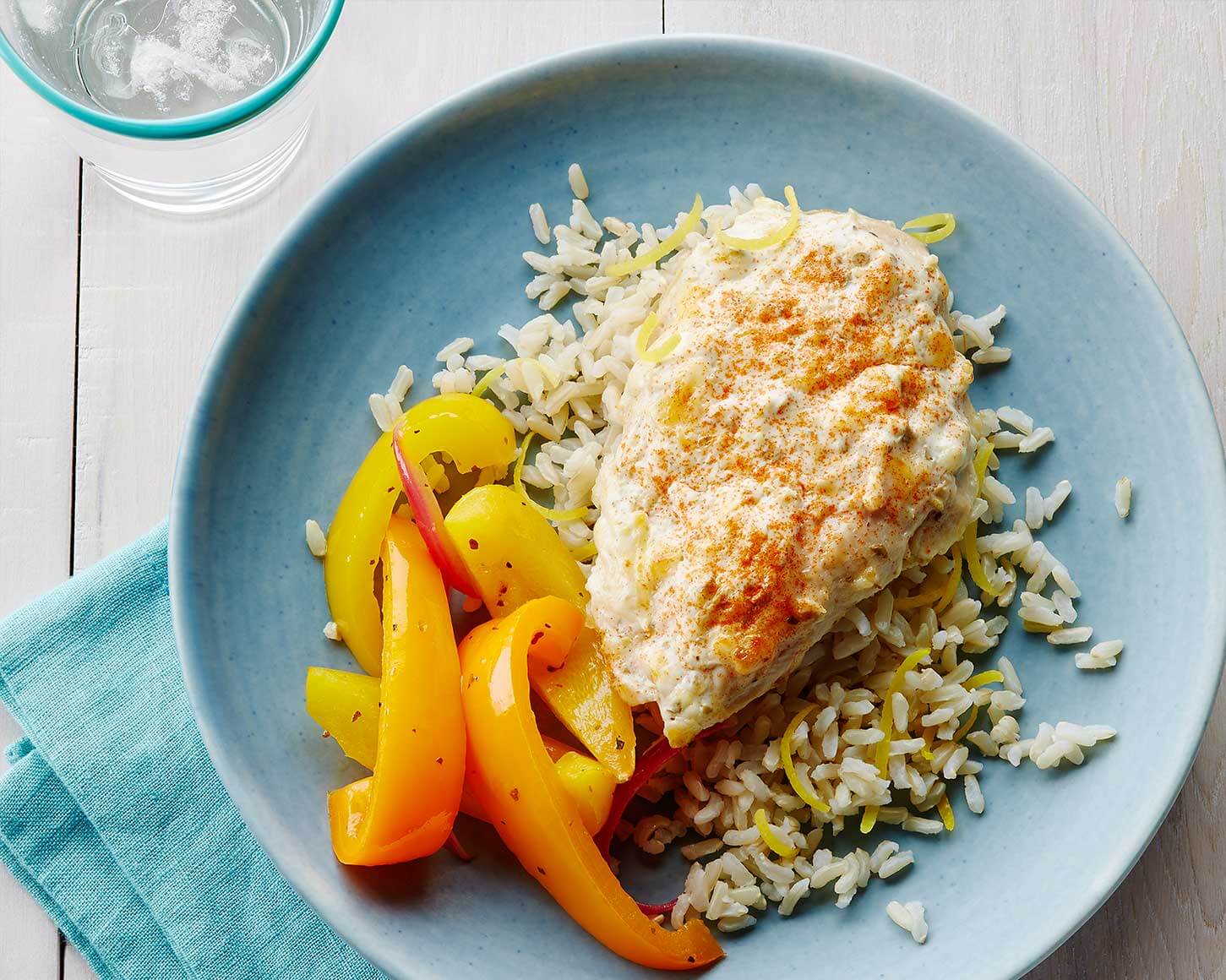 This recipe comes together in a snap. Lean chicken is coated in a delicious lemon and Greek yogurt mixture resulting in flavourful and juicy baked chicken. Serve with the lemony brown rice and a bright green vegetable like green beans or broccoli.
Ingredients
4 tsp
lemon zest, fresh, divided
3 tbsp
lemon juice, fresh
1 cup
brown rice, long grain,dry
2 cups
water or according to package directions for the rice
1 cup
Greek yogurt, plain, 2% MF
½ cup
parmesan cheese, shredded
1 tsp
oregano, leaf, dried
½ tsp
black pepper, freshly ground
2
large chicken breast, boneless, skinless (about 1 pound - 450 grams)
1
green onion, raw, thinly sliced (optional garnish)
Food Safety
Before you start, wash all surfaces and your hands with soap and warm water, and remember to wash your hands, utensils and cutting boards after they touch raw meat or eggs. Avoid cross-contamination by using a different cutting board for your meat and other ingredients. Make sure you're cooking to safe temperatures and chilling any leftovers within two hours. For more food safety tips, visit our Food Safety at Home Section.
Steps
Preheat oven to 350°F (175°C). Remove the zest from one lemon using a zester or a sharp knife to make 4 teaspoons (20 mL) zest. As you remove the yellow peel try to avoid removing the white pith which is bitter. Prepare 1 tablespoon (15 mL) fresh lemon juice and set aside.

Cook brown rice in unsalted water according to package directions. Add 1 teaspoon (5 mL) lemon zest and 3 tablespoons (45 mL) fresh lemon juice to cooking water at the beginning of cooking.

In a medium bowl whisk together Greek yogurt, shredded parmesan cheese, 1 tablespoon (15 mL) lemon zest, minced garlic, dried oregano and freshly ground black pepper.

Cut chicken breasts in half horizontally making four thinner pieces. Add chicken to yogurt mixture and use a fork to turn and coat well. Place in baking dish sprayed with vegetable oil cooking spray. Pour any leftover marinade over chicken. Sprinkle with paprika.

Bake uncovered 35-45 minutes until lightly browned and a thermometer reads 165°F (74°C).

To serve place a piece of the Greek yogurt chicken over top of the lemony brown rice. Garnish with finely sliced green onion (optional garnish).
Helpful Tip
Greek Yogurt Chicken also cooks nicely on the BBQ or grill.
Greek yogurt is higher in protein than regular yogurt as it has some of the liquid drained off.
Nutrition Info
| Per 475 g serving | Amount |
| --- | --- |
| Calories | 330 |
| Protein | 40 g |
| Fat | 7 g |
| Saturated Fat | 3 g |
| Carbohydrate | 26 g |
| Fibre | 2 g |
| Sugar | 2 g |
| Cholesterol | 85 mg |
| Sodium | 270 mg |
| Per 475 g serving | % Daily Value |
| --- | --- |
| Potassium | 13 |
| Calcium | 20 |
| Iron | 8 |
| Vitamin A | 4 |
| Vitamin C | 15 |
| Vitamin B6 | 51 |
| Vitamin B12 | 32 |
| Folate | 6 |
| Zinc | 23 |