French Fusion Braised Chicken Dinner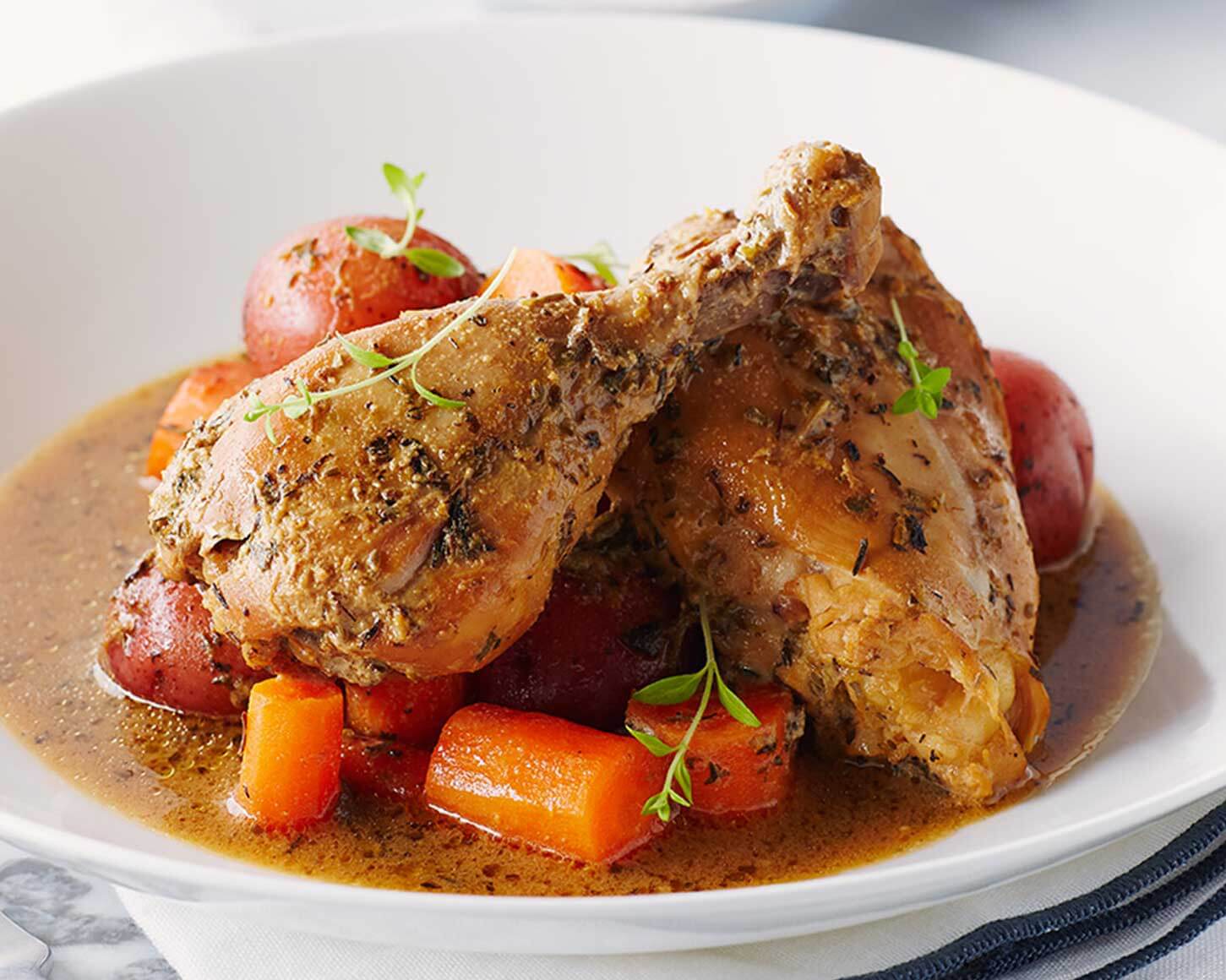 The ideal slow cooker recipe is one you can whip together in the morning with your eyes half closed using ingredients you usually have on hand and one that rewards you at the end of the day with a flavour-charged nutritionally complete dinner that everyone adores. This one, with its French Asian mix, fits the bill on all measures. Warning – make it once and it's sure to be on your "make again" list – time and time again.
Ingredients
4
chicken legs with thighs attached
¼ cup
each of soya sauce and Dijon
1 tbsp
herbes de Provence
1 ½ tsp
each of dried leaf thyme and dried leaf oregano
2 cups
baby carrots or bite-size slices of carrots
12
to 16 mini potatoes with skin-on
Food Safety
Before you start, wash all surfaces and your hands with soap and warm water, and remember to wash your hands, utensils and cutting boards after they touch raw meat or eggs. Avoid cross-contamination by using a different cutting board for your meat and other ingredients. Make sure you're cooking to safe temperatures and chilling any leftovers within two hours. For more food safety tips, visit our Food Safety at Home Section.
Steps
Pull skin from chicken and trim away any fat. If using legs with thighs attached, cut into 2 pieces. Measure soya, Dijon, lemon juice and seasonings into a slow cooker. Stir to mix. Then add chicken, turning pieces to coat and place them bone-side up. Add carrots and push down into the sauce. Scatter potatoes over top.

Cook until vegetables are done as you like and chicken reaches 165°F (74°C) , 3 to 4 hours on high or 5 to 6 hours on low. Serve in big shallow bowls with the broth spooned over top. Garnish, if you like, with sliced green onions, chopped coriander or parsley.
Nutrition Info
| Per serving | Amount |
| --- | --- |
| Calories | 418 |
| Protein | 48 g |
| Fat | 14 g |
| Saturated Fat | 4 g |
| Carbohydrate | 26 g |
| Fibre | 4 g |
| Sugar | 4 g |
| Cholesterol | 190 mg |
| Sodium | 1350 mg |
| Per serving | % Daily Value |
| --- | --- |
| Potassium | 32 |
| Calcium | 8 |
| Iron | 34 |
| Vitamin A | 76 |
| Vitamin C | 44 |
| Vitamin B6 | 54 |
| Vitamin B12 | 26 |
| Folate | 20 |
| Zinc | 56 |