Arroz con Pollo Burritos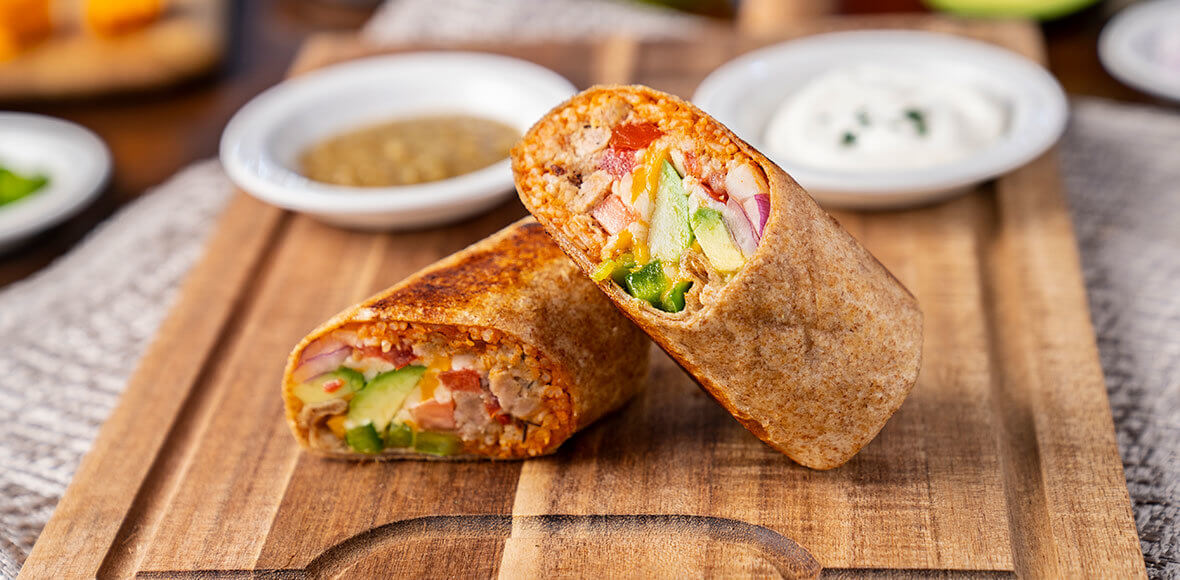 This recipe features a mole-inspired sauce that gives the chicken a nice smoky flavour. Topped with creamy avocado, tart lime and tangy shredded cheddar cheese, these burritos are as filling as they are delicious.
Ingredients
8
10 inch whole wheat tortillas
¾ lb
extra lean ground chicken
½ cup
short grain brown rice
2
tomato(es), fresh, diced
1 tbsp
chipotle peppers, in adobo sauce, minced
1
green pepper(s), minced
1 cup
cheddar cheese, grated
Food Safety
Before you start, wash all surfaces and your hands with soap and warm water, and remember to wash your hands, utensils and cutting boards after they touch raw meat or eggs. Avoid cross-contamination by using a different cutting board for your meat and other ingredients. Make sure you're cooking to safe temperatures and chilling any leftovers within two hours. For more food safety tips, visit our Food Safety at Home Section.
Steps
Cook rice in boiling unsalted water according to package directions.

Sauté chicken and onion with oregano chili powder and cumin in a non-stick skillet until cooked through.

Add raisins, cocoa powder, water, tomatoes, chipotle peppers in adobo sauce, tomato paste, and green pepper. Bring to a boil. Cover, reduce heat to low and cook for 15 minutes. Remove the cover and cook until the liquid is almost gone.

Dice avocado and sprinkle with fresh lime juice.

To assemble burritos, scoop a generous ½ cup (125 mL) filling on each tortilla and top with 2 Tbsp (30 mL) shredded cheese and some of the chopped avocado. Fold in sides and roll-up to enclose filling.
Helpful Tip
Serve with additional garnishes, such as minced cilantro and your favourite salsa. If you like your food less spicy, omit the chipotle in adobo sauce. Freeze individual burritos (minus the avocado) for convenient pack and go lunches.
Nutrition Info
| Per 300 g serving | Amount |
| --- | --- |
| Calories | 470 |
| Protein | 20 g |
| Fat | 19 g |
| Saturated Fat | 3.5 g |
| Carbohydrate | 55 g |
| Fibre | 8 g |
| Sugar | 10 g |
| Cholesterol | 45 mg |
| Sodium | 630 mg |
| Per 300 g serving | % Daily Value |
| --- | --- |
| Potassium | 13 |
| Calcium | 20 |
| Iron | 20 |
| Vitamin A | 15 |
| Vitamin C | 45 |
| Vitamin B6 | 14 |
| Vitamin B12 | 6 |
| Folate | 15 |
| Zinc | 9 |