Peanut Butter Chicken Wraps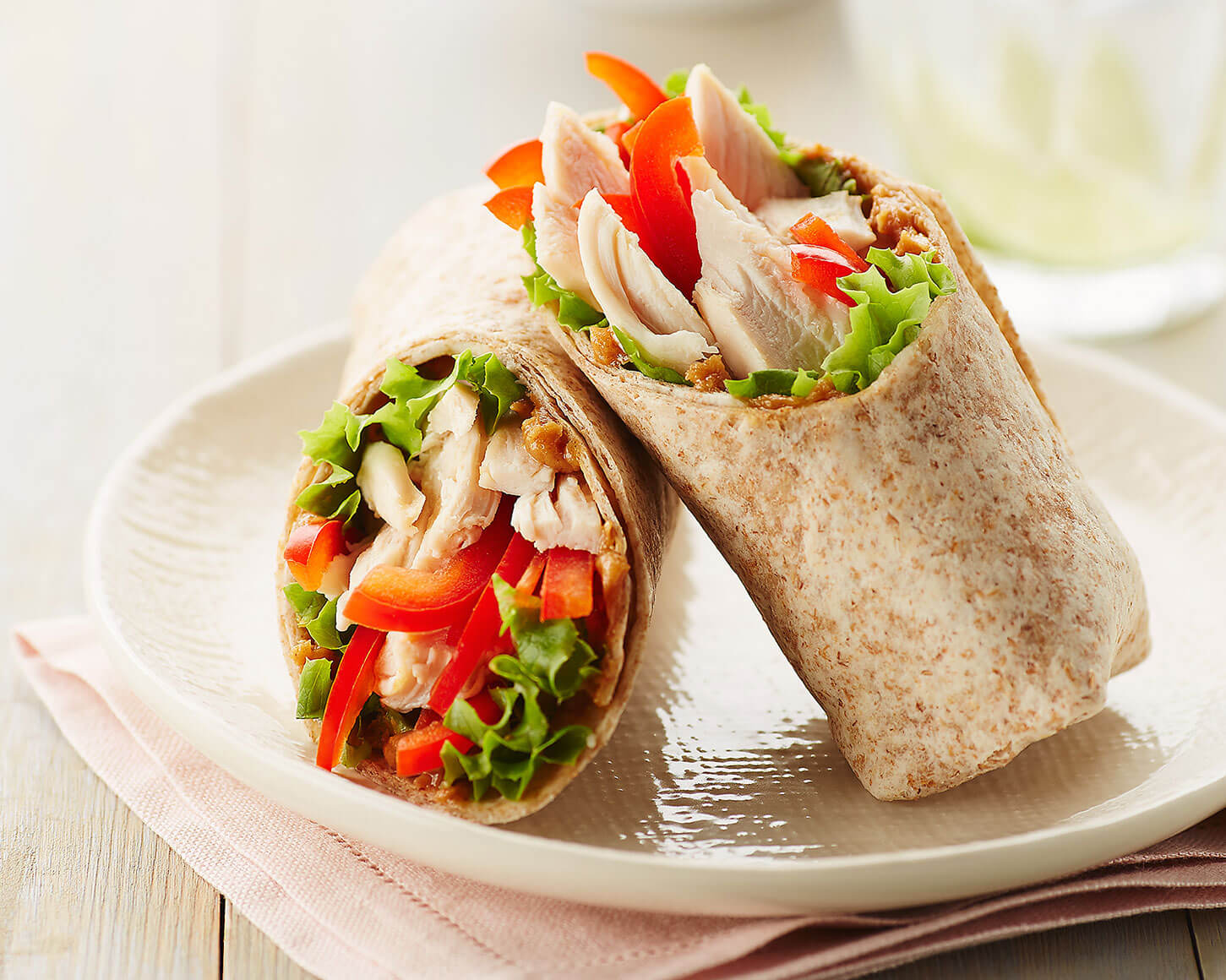 Jazz up peanut butter and make a quick wrap you can eat anytime of the day. Finish it off by adding your favorite crunchy vegetables for added nutrients and fiber.
Ingredients
2 tbsp
peanut butter, crunchy or smooth, natural
½ tsp
soy sauce, sodium reduced
1 tbsp
lime juice, freshly squeezed
1
tortilla, whole-wheat, large/13"
½ cup
red pepper, sweet, diced
¼ cup
chicken, cooked, sliced
Food Safety
Before you start, wash all surfaces and your hands with soap and warm water, and remember to wash your hands, utensils and cutting boards after they touch raw meat or eggs. Avoid cross-contamination by using a different cutting board for your meat and other ingredients. Make sure you're cooking to safe temperatures and chilling any leftovers within two hours. For more food safety tips, visit our Food Safety at Home Section.
Steps
Mix peanut butter with soy sauce, lime juice and cayenne in a small bowl. You can double or triple this part of the recipe and store extra in the fridge for more wraps at a later time.

Spread the whole-wheat tortilla with the peanut sauce. Top with the sliced cooked chicken, sliced peppers and shredded lettuce.

Fold the sides over the filling and roll up. Cut in half on a diagonal.
Helpful Tip
Optional additions include cilantro, cucumber, snow peas and other fresh vegetables.
Nutrition Info
| Per serving | Amount |
| --- | --- |
| Calories | 570 |
| Protein | 14 g |
| Fat | 22 g |
| Saturated Fat | 5 g |
| Carbohydrate | 66 g |
| Fibre | 12 g |
| Cholesterol | 30 mg |
| Sodium | 33 mg |
| Per serving | % Daily Value |
| --- | --- |
| Potassium | 14 |
| Calcium | 15 |
| Iron | 30 |
| Vitamin A | 10 |
| Vitamin C | 60 |
| Vitamin B12 | 6 |
| Folate | 14 |