Old Fashioned Chicken Soup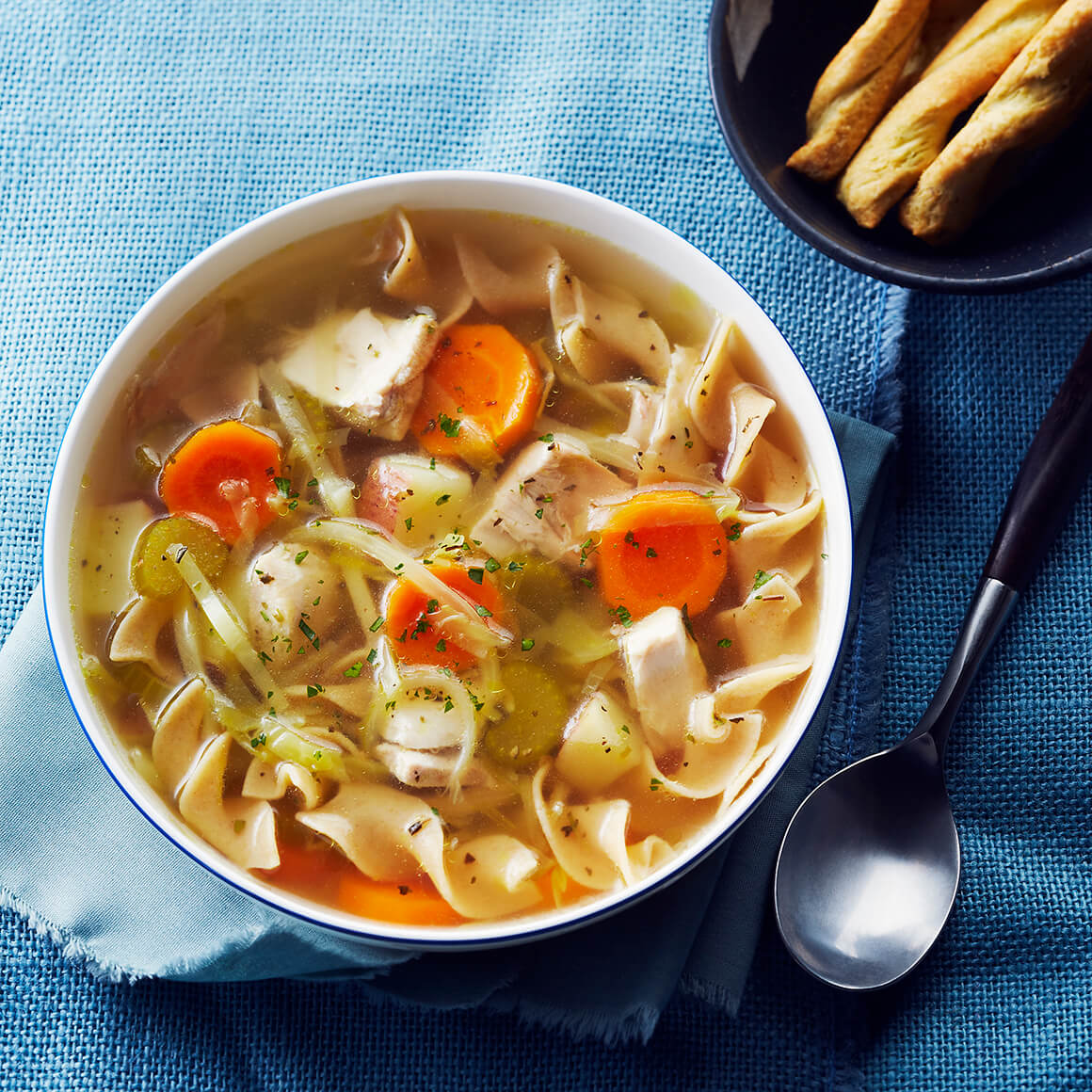 A from-scratch chicken soup made from chicken legs simmered into a simple broth. No need for ready-to-serve chicken broth when it is so simple to make your own.
Ingredients
2
skinless chicken legs and back, large
⅛ tsp
turmeric, ground (optional)
2 cups
green cabbage, chopped
2 cups
potatoes, with skin, diced
1 cup
whole wheat egg white noodles
½ tsp
black pepper, freshly-ground
¼ cup
parsley, fresh, chopped, for garnish
Food Safety
Before you start, wash all surfaces and your hands with soap and warm water, and remember to wash your hands, utensils and cutting boards after they touch raw meat or eggs. Avoid cross-contamination by using a different cutting board for your meat and other ingredients. Make sure you're cooking to safe temperatures and chilling any leftovers within two hours. For more food safety tips, visit our Food Safety at Home Section.
Steps
Remove skin from chicken legs. Add to large soup pot that has a tight fitting lid. Pour cold water over and add the ground turmeric.

Prepare soup vegetables. Chop onion, slice celery and carrots, mince garlic, shred cabbage, and dice potatoes. Add to soup pot. Cover and bring to a boil. Reduce heat and simmer 30 minutes.

Remove chicken from pot and set aside to cool. Once cool, remove meat from bones. Discard bones, cut meat into bite-size pieces, and add back to soup pot.

Stir in egg noodles or dry pasta noodle of your choice.

Season broth with salt, pepper, dried oregano, basil, and sugar. Simmer an additional 15 minutes.

To serve, garnish with fresh minced parsley.
Tips
This recipe was tested with "Catelli Healthy Harvest Whole Wheat Egg White Noodles."
Recipe doubles and freezes well. Freeze in smaller portions for portable lunches.
Add in-season vegetables of your choice. Spring and summer additions could be tender cuts of asparagus, baby carrots or spinach and/or sliced zucchini.
Nutrition Info
| Per 280 g serving | Amount |
| --- | --- |
| Calories | 80 |
| Protein | 8 g |
| Fat | 2 g |
| Carbohydrate | 8 g |
| Fibre | 1 g |
| Sugar | 2 g |
| Cholesterol | 25 mg |
| Sodium | 350 mg |
| Per 280 g serving | % Daily Value |
| --- | --- |
| Potassium | 7 |
| Calcium | 2 |
| Iron | 4 |
| Vitamin A | 2 |
| Vitamin C | 25 |
| Vitamin B6 | 13 |
| Vitamin B12 | 6 |
| Folate | 5 |
| Zinc | 9 |