Louisiana Fried Chicken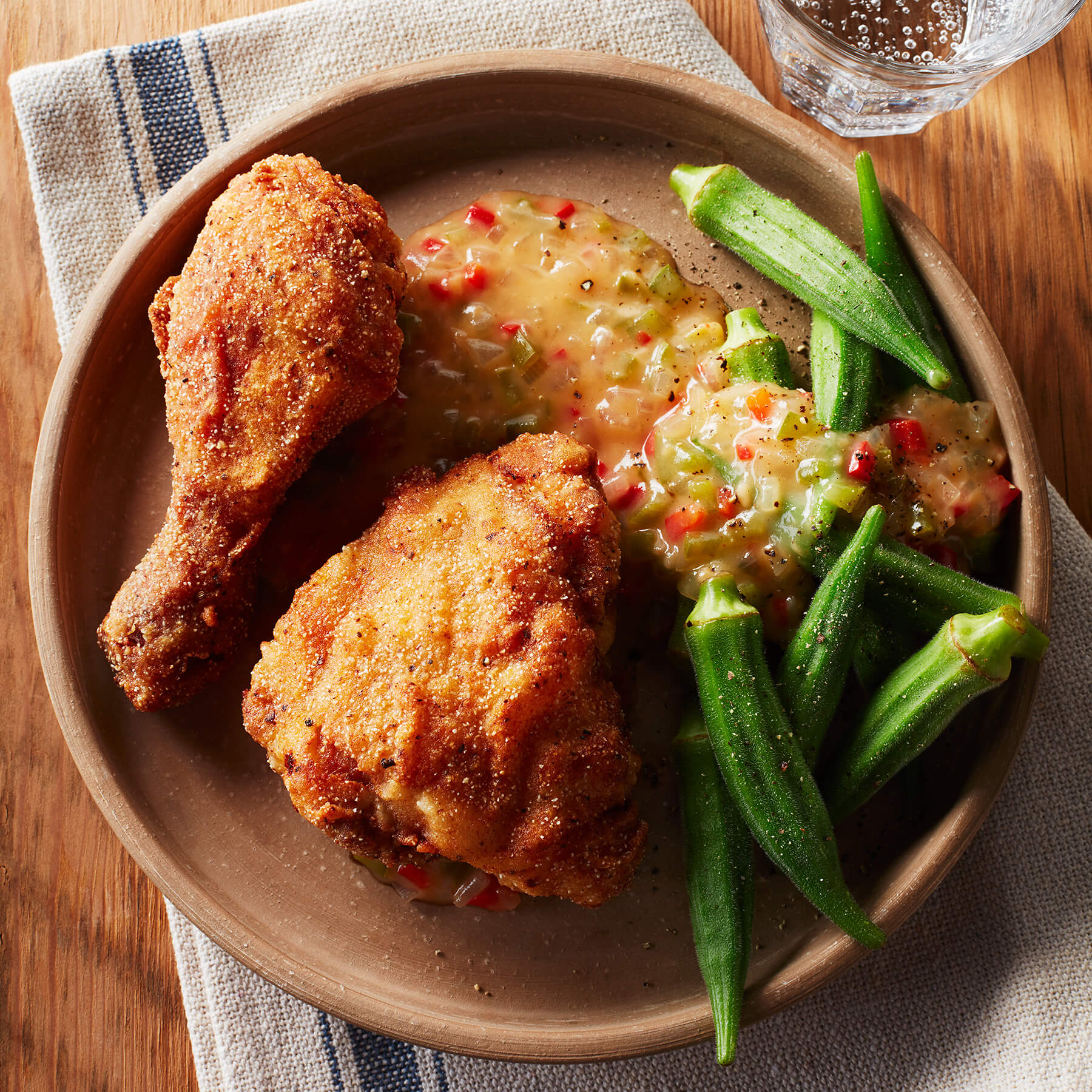 What's the secret to juicy, tender fried chicken? Buttermilk! With light, crispy skin, it's a decadent treat that's worth trying, especially served with this delicious pepper sauce.
Ingredients
Chicken
2 ½ lb
whole chicken, cut into pieces
4 cups
vegetable oil, for frying
Pepper Sauce
1 ¼ cups
low-sodium chicken broth
1
onion, medium, finely-chopped
½
green pepper, finely-chopped
½
red pepper, finely-chopped
Food Safety
Before you start, wash all surfaces and your hands with soap and warm water, and remember to wash your hands, utensils and cutting boards after they touch raw meat or eggs. Avoid cross-contamination by using a different cutting board for your meat and other ingredients. Make sure you're cooking to safe temperatures and chilling any leftovers within two hours. For more food safety tips, visit our Food Safety at Home Section.
Steps
In medium saucepan over medium heat, warm butter. Stir in onion, red pepper and green pepper. Stew peppers until soft, about 10 minutes, stirring occasionally.

Stir in flour and cayenne. Cook for 2 minutes, stirring often. Gradually stir in chicken broth. Bring sauce to simmer; reduce heat to low and let cook until thickened, about 5 minutes. Add salt; remove from heat and set aside until needed.

Place chicken in large, glass bowl or dish; pour buttermilk over it. Cover and refrigerate for 30 minutes.

In medium bowl, whisk together flour, cornmeal, salt, celery salt, pepper, paprika and cayenne. Dredge chicken pieces in flour, two at a time, turning to coat all sides thoroughly. Set chicken on a rack and let sit for 30 minutes.

In large, cast iron skillet add oil to fill ¾ inch (2 cm) deep. Over medium-high heat, warm oil to 350°F (175°C), using a kitchen thermometer to test oil temperature. Carefully place chicken, skin-side-down in oil. Reduce heat to medium and cook chicken for 15 minutes until nicely browned. Turn chicken and cook for additional 10 minutes, until internal temperature registers 165°F (74°C) on thermometer. Remove chicken and drain on paper towels. Cook remaining chicken in same manner until done. Before serving, reheat sauce and pass separately.
Nutrition Info
| Per 530 g serving | Amount |
| --- | --- |
| Calories | 840 |
| Protein | 57 g |
| Fat | 50 g |
| Saturated Fat | 16 g |
| Carbohydrate | 37 g |
| Fibre | 4 g |
| Sugar | 6 g |
| Cholesterol | 220 mg |
| Sodium | 860 mg |
| Per 530 g serving | % Daily Value |
| --- | --- |
| Potassium | 26 |
| Calcium | 15 |
| Iron | 30 |
| Vitamin A | 25 |
| Vitamin C | 80 |
| Vitamin B6 | 63 |
| Vitamin B12 | 59 |
| Folate | 37 |
| Zinc | 40 |