Lemon Garlic Chicken with Creamy Basil Sauce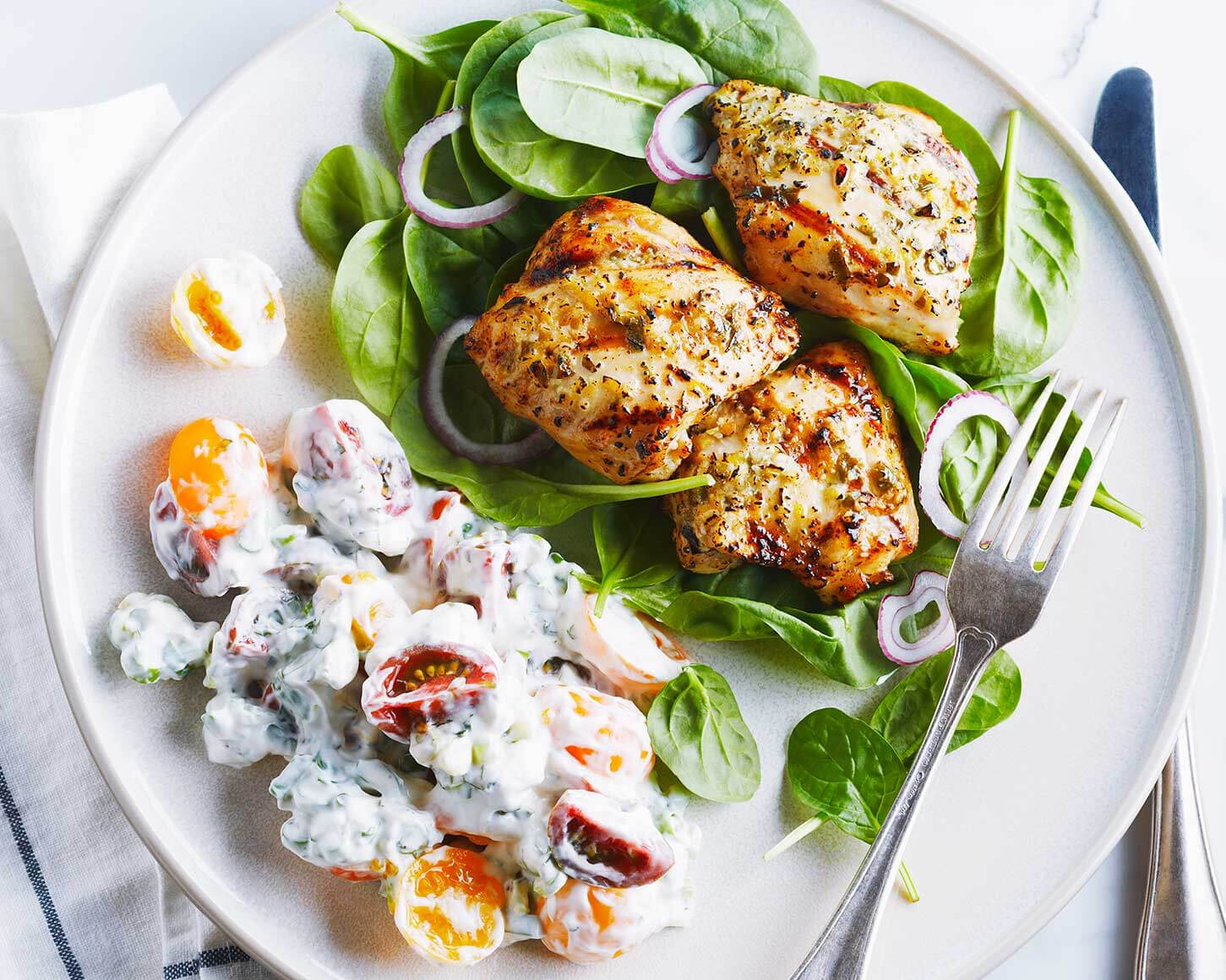 Here's a grilled lemony garlic chicken accompanied by a simple sour cream basil sauce. It is paired with a salad of heirloom cherry tomatoes and fresh basil. Hard to resist!
Ingredients
1 ⅓ lb
boneless, skinless chicken thighs
3 tbsp
lemon juice, fresh
1 tbsp
basil, fresh, minced
½ cup
sour cream, 14 % MF
1 cup
heirloom cherry tomatoes, cut in quarters
2 tbsp
basil, fresh, minced
½
red onion, sliced into rings
Food Safety
Before you start, wash all surfaces and your hands with soap and warm water, and remember to wash your hands, utensils and cutting boards after they touch raw meat or eggs. Avoid cross-contamination by using a different cutting board for your meat and other ingredients. Make sure you're cooking to safe temperatures and chilling any leftovers within two hours. For more food safety tips, visit our Food Safety at Home Section.
Steps
Add chicken thighs to a large re-sealable plastic bag. Prepare lemon peel (zest), fresh lemon juice, minced garlic and 1 Tbsp (15 mL) basil. Add to the bag with the olive oil. Seal bag and use your hands to massage marinade into thighs. Refrigerate at least one hour and preferably overnight.

Preheat grill over medium-high heat. Remove chicken from marinade and place on grill. Grill approximately 6-8 minutes on each side and until chicken reaches an internal temperature of 165°F (74°C).

While chicken is grilling prepare the sauce. Mix sour cream with salt in medium bowl. Prepare cherry tomato quarters, sliced green onion and 2 Tbsp (30 mL) minced fresh basil. Stir into sour cream. Set aside.

To make individual servings, spread a few cups (500 mL) of baby leaf spinach across dinner plate. Sprinkle finely sliced red onions around perimeter. Add grilled chicken thigh to centre and top with dollop of the creamy basil sauce. Serve any extra sauce on the side.
Helpful Tip
Substitute other fresh herbs for the basil using any combination of chives, oregano, marjoram, mint, thyme and/or rosemary.
Nutrition Info
| Per 315 g serving | Amount |
| --- | --- |
| Calories | 310 |
| Protein | 32 g |
| Fat | 15 g |
| Saturated Fat | 5 g |
| Carbohydrate | 12 g |
| Fibre | 4 g |
| Sugar | 2 g |
| Cholesterol | 135 mg |
| Sodium | 370 mg |
| Per 315 g serving | % Daily Value |
| --- | --- |
| Potassium | 16 |
| Calcium | 10 |
| Iron | 20 |
| Vitamin A | 40 |
| Vitamin C | 45 |
| Vitamin B6 | 33 |
| Vitamin B12 | 31 |
| Folate | 12 |
| Zinc | 35 |