Big Juicy Apple Cheddar Burgers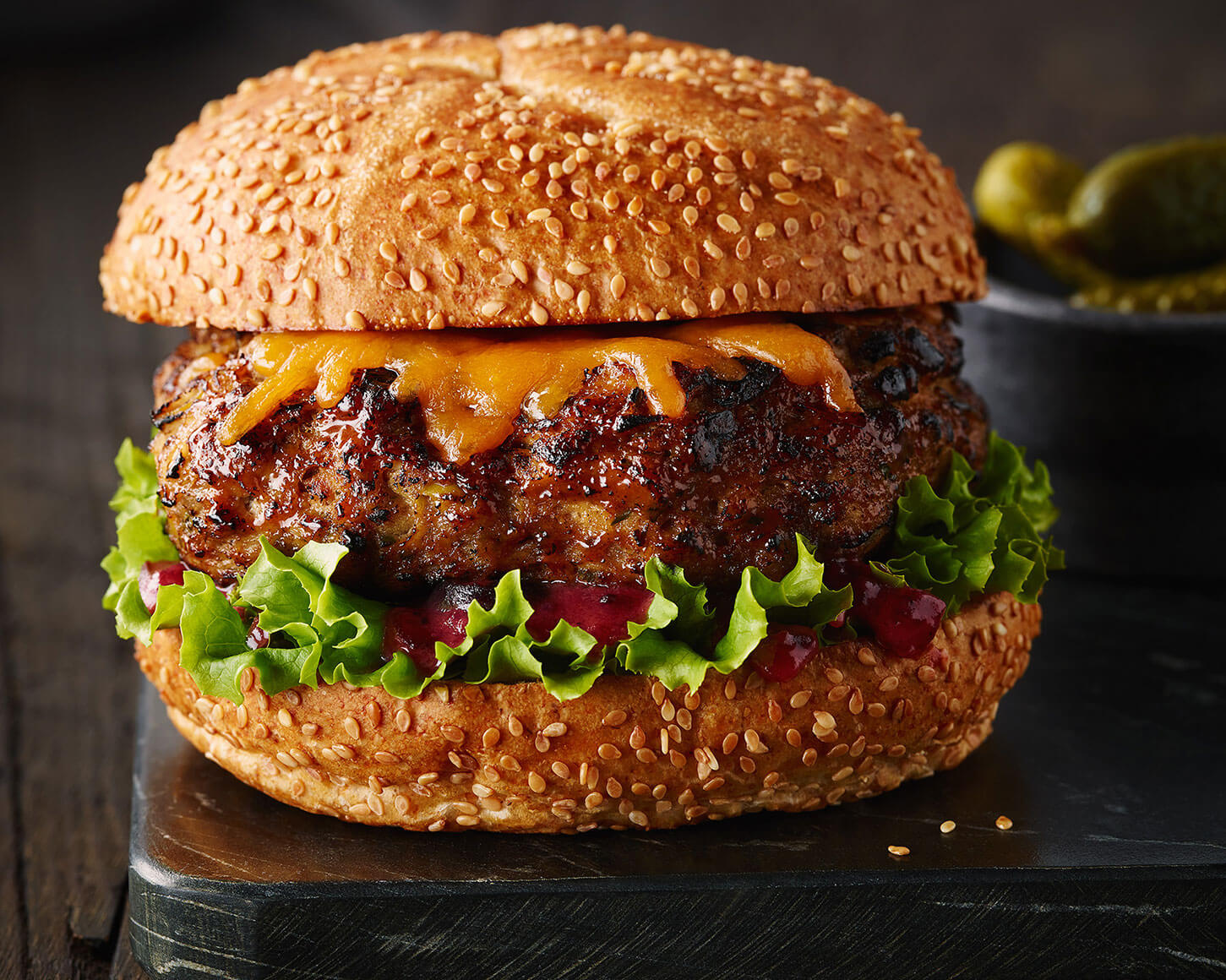 These delicious chicken burgers are topped with whole berry cranberry sauce mixed with Dijon mustard. They are a nice change from the usual mustard, relish and ketchup.
Ingredients
¼ cup
parsley, fresh, minced
1 lb
chicken, ground, lean
¼ cup
cheddar cheese, shredded
⅓ cup
cranberry sauce, whole berry, canned
8
hamburger rolls, whole wheat
Food Safety
Before you start, wash all surfaces and your hands with soap and warm water, and remember to wash your hands, utensils and cutting boards after they touch raw meat or eggs. Avoid cross-contamination by using a different cutting board for your meat and other ingredients. Make sure you're cooking to safe temperatures and chilling any leftovers within two hours. For more food safety tips, visit our Food Safety at Home Section.
Steps
Mince fresh parsley and garlic and grate the apple with the skin on. Combine with ground chicken, bread crumbs, dried thyme, salt and pepper in a bowl using clean hands. Divide into four equal parts and shape into round neat patties.

Spray BBQ grill with vegetable oil cooking spray and preheat on medium heat. Grill burgers with the lid closed – about 10 minutes per side. Burgers are done until a thermometer inserted into the centre of the burger reads 165ºF (74ºC).

Top with shredded cheddar being careful that it doesn't fall off burger. Cook a few minutes more until cheese melts.

Split and toast buns on grill.

Mix cranberry sauce and mustard in small bowl.

To serve, top toasted bun bottoms with 2 lettuce leaves, a grilled chicken burger, cranberry mustard and the other bun piece. Open wide!
Nutrition Info
| Per serving | Amount |
| --- | --- |
| Calories | 480 |
| Protein | 29 g |
| Fat | 23 g |
| Saturated Fat | 4 g |
| Carbohydrate | 39 g |
| Fibre | 3 g |
| Cholesterol | 100 mg |
| Sodium | 26 mg |
| Per serving | % Daily Value |
| --- | --- |
| Potassium | 7 |
| Calcium | 20 |
| Iron | 25 |
| Vitamin A | 8 |
| Vitamin C | 20 |
| Vitamin B6 | n/A |
| Vitamin B12 | 8 |
| Folate | 22 |