Asian Chicken Wings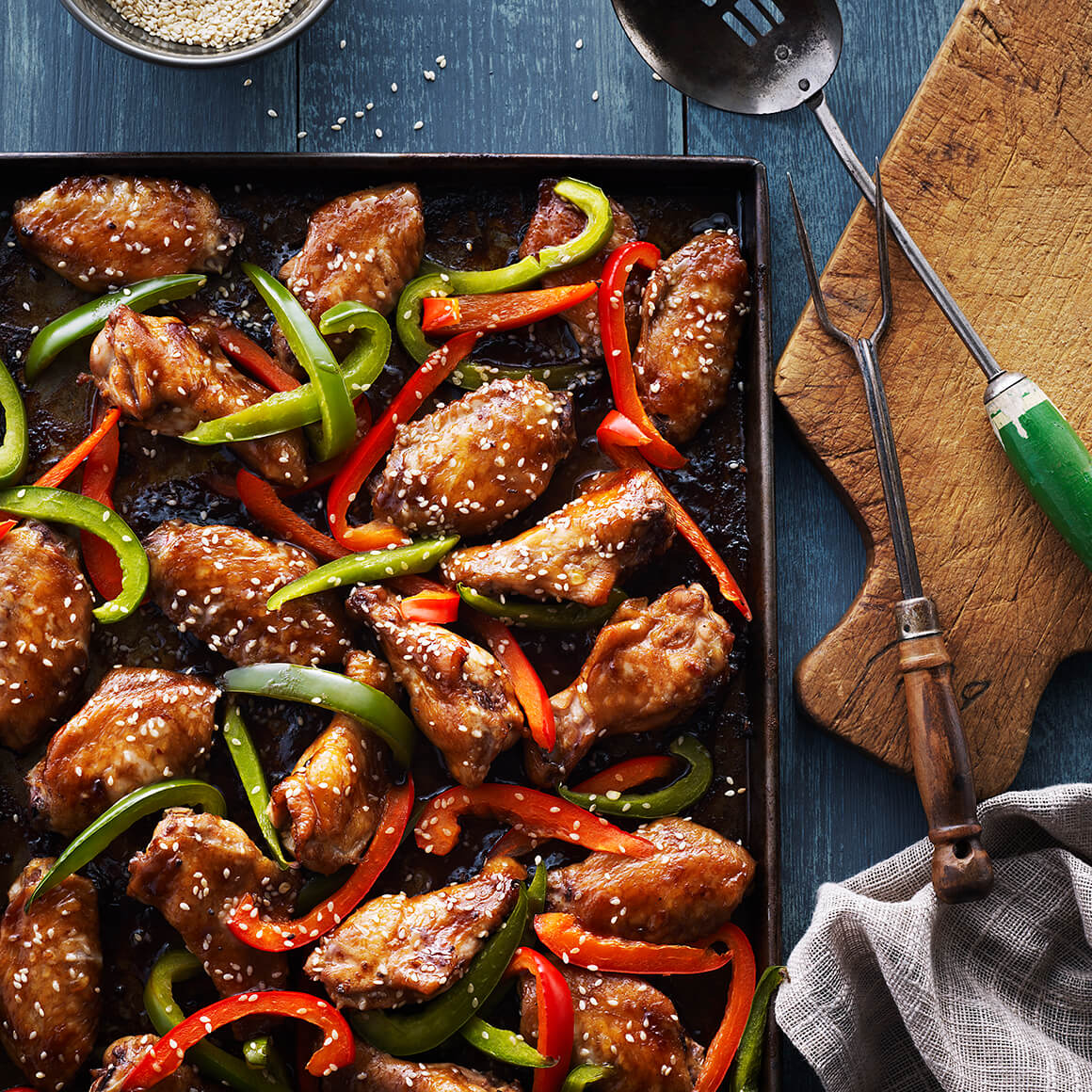 These addictive Asian-inspired wings are sticky and delicious. Make sure to have lots of napkins on hand when you make this recipe!
Ingredients
3 lb
chicken wings, split
3 tbsp
sesame seeds, toasted
1 tsp
ginger, freshly grated
½
green pepper, cored, seeded, cut into thin strips
½
red pepper, cored, seeded, cut into thin strips
Food Safety
Before you start, wash all surfaces and your hands with soap and warm water, and remember to wash your hands, utensils and cutting boards after they touch raw meat or eggs. Avoid cross-contamination by using a different cutting board for your meat and other ingredients. Make sure you're cooking to safe temperatures and chilling any leftovers within two hours. For more food safety tips, visit our Food Safety at Home Section.
Steps
Preheat oven to 375°F (190°C).

Add hoisin sauce, vegetable oil and ginger to large resealable bag. Mix ingredients together in bag.

Place chicken wings inside bag and coat wings with sauce.

Remove chicken wings from bag and place on large baking sheet. Sprinkle peppers on baking sheet with wings. Sprinkle wings with half of the sesame seeds and place in oven.

Cook for approximately 10 to 15 minutes and then remove baking sheet from oven. With tongs, turn wings over to cook on other side. Sprinkle wings with remaining sesame seeds and return baking sheet to oven.

Bake for another 10 to 15 minutes or until wings are thoroughly cooked.

Sprinkle wings with sesame oil and serve with pepper strips.
Nutrition Info
| Per 455 g serving | Amount |
| --- | --- |
| Calories | 1010 |
| Protein | 66 g |
| Fat | 68 g |
| Saturated Fat | 16 g |
| Carbohydrate | 32 g |
| Fibre | 3 g |
| Sugar | 19 g |
| Cholesterol | 265 mg |
| Sodium | 1280 mg |
| Per 455 g serving | % Daily Value |
| --- | --- |
| Potassium | 20 |
| Calcium | 15 |
| Iron | 30 |
| Vitamin A | 15 |
| Vitamin C | 80 |
| Vitamin B6 | 76 |
| Vitamin B12 | 54 |
| Folate | 17 |
| Zinc | 59 |