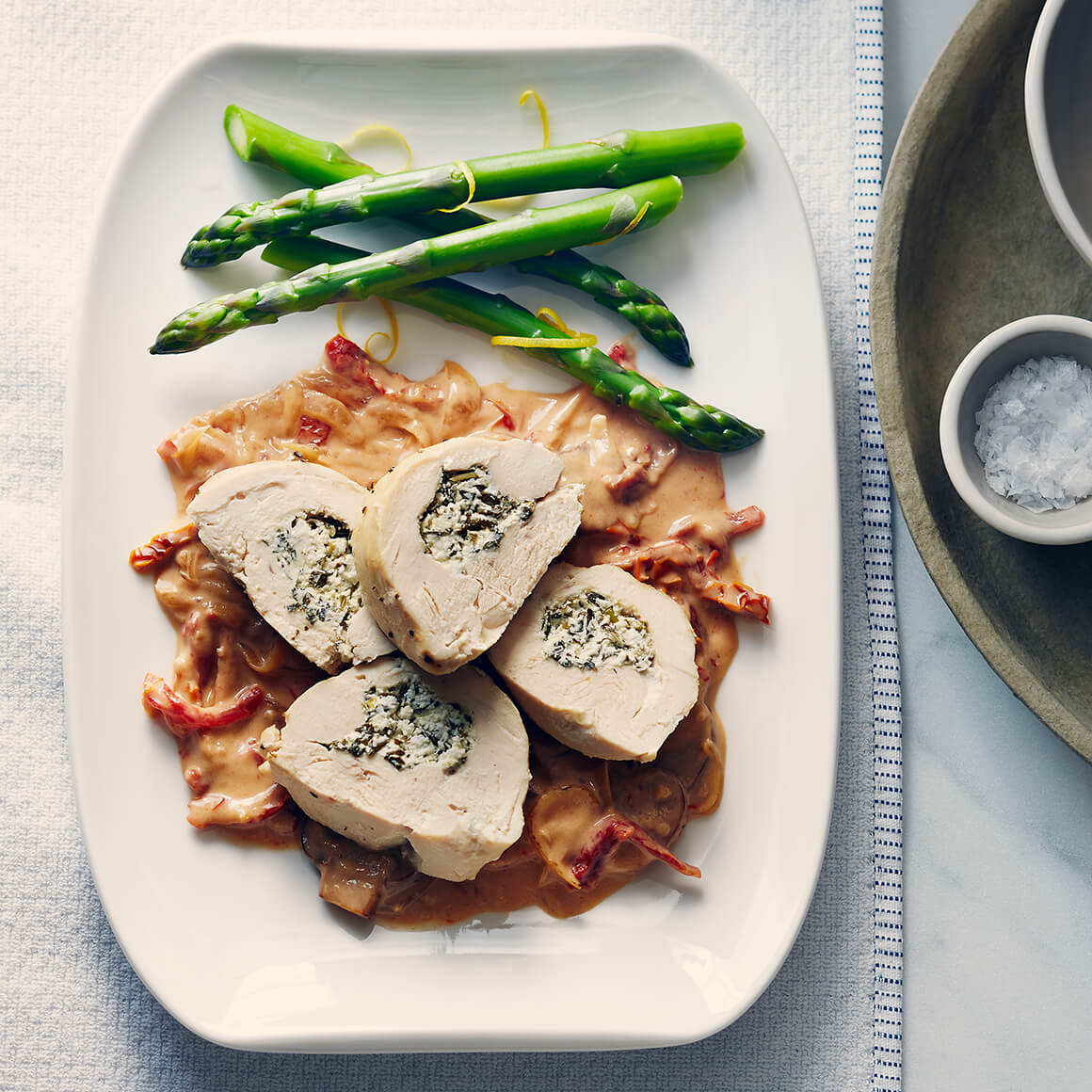 This prizewinning recipe features robust flavours treated with the utmost delicacy. These savoury stuffed chicken breasts are served with a sun-dried tomato-cream sauce that's out of this world.
Ingredients
Herb Goat Cheese-Stuffed Chicken Breasts
8
boneless, skinless chicken breast(s)
2 tbsp
olive oil, extra virgin
½ cup
basil, fresh, chopped
2 tbsp
oregano, fresh, chopped
1 tbsp
thyme, fresh, chopped
Sauce
½ cup
dry-packed sun-dried tomatoes
1
sweet onion, large, quartered, thinly sliced
4 cups
cremini mushrooms, sliced
1 cup
low-sodium chicken broth
1 cup
35% (whipping) cream
Food Safety
Before you start, wash all surfaces and your hands with soap and warm water, and remember to wash your hands, utensils and cutting boards after they touch raw meat or eggs. Avoid cross-contamination by using a different cutting board for your meat and other ingredients. Make sure you're cooking to safe temperatures and chilling any leftovers within two hours. For more food safety tips, visit our Food Safety at Home Section.
Steps
In a bowl, combine goat cheese, basil, oregano, thyme, lemon rind, salt and pepper; set aside. (Make-ahead: Refrigerate in airtight container for up to 8 hours.)

With sharp knife held horizontally and starting at thinner side, cut each chicken breast in half almost but not all the way through; open like book. Place between sheets of plastic wrap; pound with mallet to even thickness.

Roll 2 Tbsp (30 mL) of the filling into a log shape; place into crease of chicken breast. Fold top and bottom over ends of log; fold side edges of chicken over log to overlap. Turn chicken over so seam is underneath. Repeat with remaining chicken. (Make-ahead: Cover and refrigerate for up to 8 hours.)

Brush chicken with oil; sprinkle with salt and pepper. Place on greased rimmed baking sheet. Roast in 375°F (190°C) oven until chicken is cooked through and the chicken reaches an internal temperature of 165°F (74°C).

In a bowl, cover tomatoes with boiling water; let stand until softened, about 10 minutes. Drain and dice.

In large skillet, melt half of the butter over medium heat; fry onions until very soft and golden brown, about 20 minutes. Transfer to bowl.

Increase heat to medium-high. Add remaining butter; sauté mushrooms and garlic until softened, about 5 minutes. Return onions to pan. Add sherry; cook until reduced by half, about 3 minutes. Stir in tomatoes.

Add stock and cream; bring to boil, reduce heat to medium-low and simmer until sauce is thick enough to coat back of spoon, about 4 minutes.

Slice each chicken breast on angle into 4 pieces. Spoon sauce onto plates; arrange chicken over sauce.
Nutrition Info
| Per 425 g serving | Amount |
| --- | --- |
| Calories | 590 |
| Protein | 70 g |
| Fat | 29 g |
| Saturated Fat | 15 g |
| Carbohydrate | 9 g |
| Fibre | 1 g |
| Sugar | 4 g |
| Cholesterol | 220 mg |
| Sodium | 530 mg |
| Per 425 g serving | % Daily Value |
| --- | --- |
| Potassium | 35 |
| Calcium | 15 |
| Iron | 15 |
| Vitamin A | 20 |
| Vitamin C | 15 |
| Vitamin B6 | 89 |
| Vitamin B12 | 60 |
| Folate | 13 |
| Zinc | 34 |