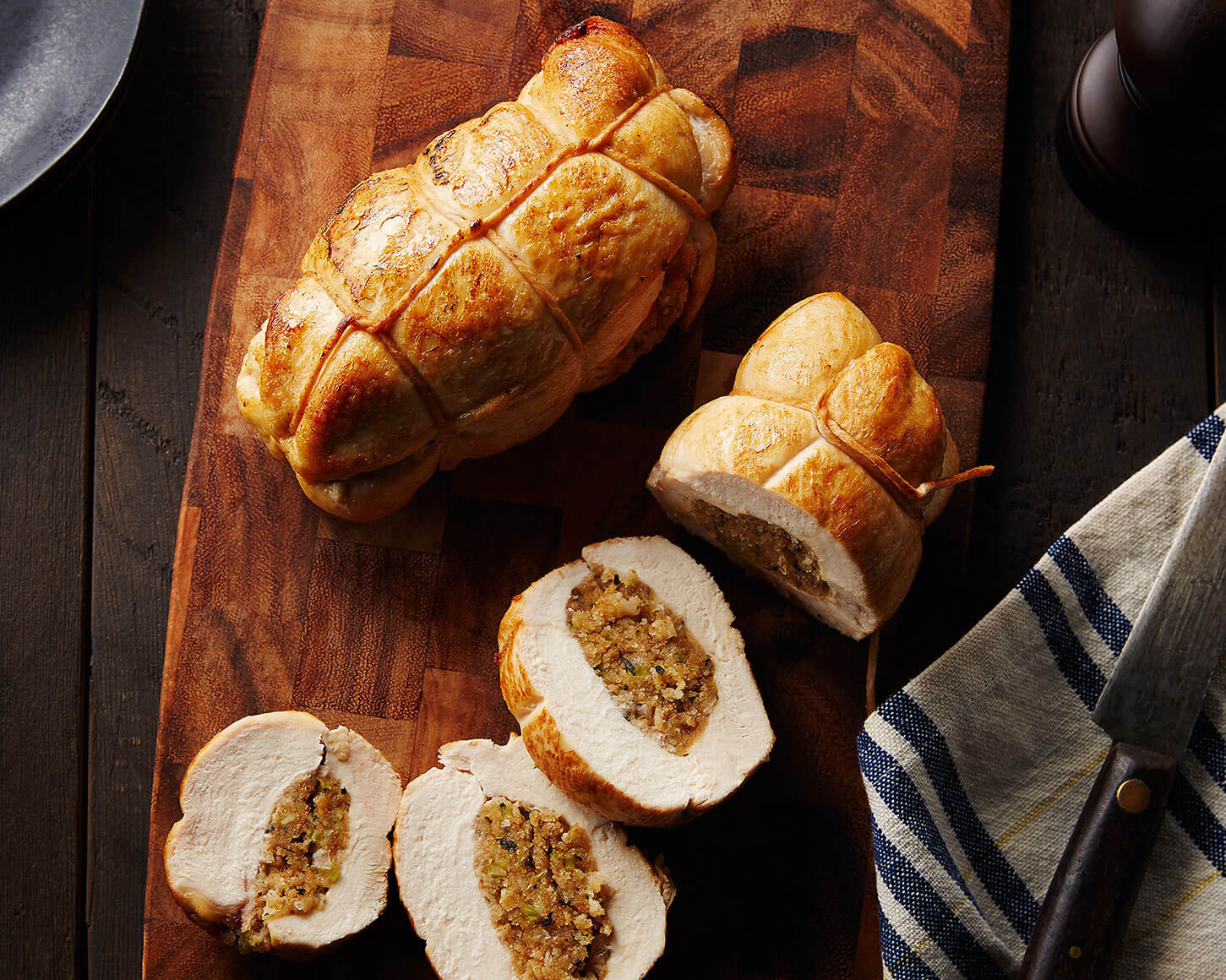 Perfect for 4 but easy to double for a larger dinner party, this dish is ideal for both casual weekend suppers and special occasions.
Ingredients
4
boneless, skinless chicken breast, filets removed
Food Safety
Before you start, wash all surfaces and your hands with soap and warm water, and remember to wash your hands, utensils and cutting boards after they touch raw meat or eggs. Avoid cross-contamination by using a different cutting board for your meat and other ingredients. Make sure you're cooking to safe temperatures and chilling any leftovers within two hours. For more food safety tips, visit our Food Safety at Home Section.
Steps
Preheat oven to 350°F (175°C).

Melt butter in a saucepan over medium heat; add onion, celery and savory. Cook until tender. Remove from heat and stir in crumbs until well mixed. Stir in chicken broth. Stuffing should be moist enough to shape into 2 logs.

Put chicken breasts between layers of wax paper and pound to about ½ inch (1 cm) thickness. Season chicken with salt and pepper and place, smooth side down, on a cutting board.

Place 1 stuffing log down the middle of one chicken breast. Place a second chicken breast, smooth side up, on top of the stuffing. Tie breasts together securely with string so the stuffing is sandwiched in between. Repeat with the remaining two breasts. These are called chicken breast roasts and each roast serves two.

Heat oil in a skillet over medium heat and brown the roasts on all sides. Place on a baking sheet and bake for about 45 minutes or until a thermometer inserted into the chicken (not the stuffing) reads 165°F (74°C).

To serve, remove string and slice each roast in 6. Serve with roasted potatoes.
Helpful Tip
Adapted from a recipe from Hotel Newfoundland.
Nutrition Info
| Per 340 g serving | Amount |
| --- | --- |
| Calories | 580 |
| Protein | 65 g |
| Fat | 24 g |
| Saturated Fat | 9 g |
| Carbohydrate | 21 g |
| Fibre | 2 g |
| Sugar | 2 g |
| Cholesterol | 185 mg |
| Sodium | 580 mg |
| Per 340 g serving | % Daily Value |
| --- | --- |
| Potassium | 25 |
| Calcium | 8 |
| Iron | 15 |
| Vitamin A | 10 |
| Vitamin C | 8 |
| Vitamin B6 | 85 |
| Vitamin B12 | 57 |
| Folate | 20 |
| Zinc | 29 |