Tuscan Chicken Pizza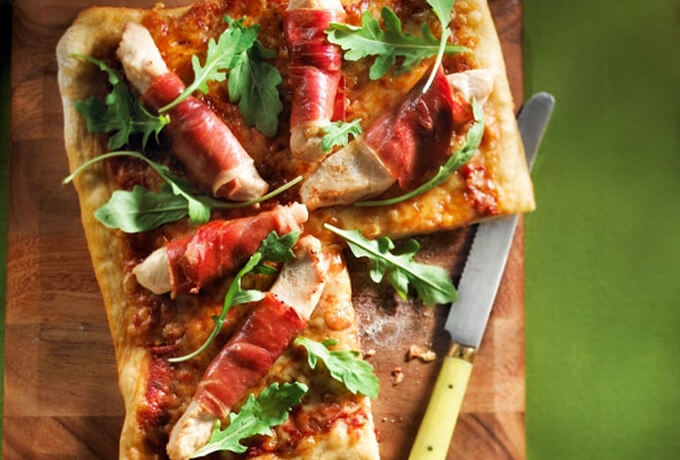 You don't have to travel to Tuscany to enjoy this delicious pizza, but the combination of thyme, honey and prosciutto will have you feeling like you're there.
Ingredients
1 cup
Italian-style tomatoes, peeled, seeded and diced
10
strips cooked chicken, size of your little finger
2 cups
mozzarella cheese, grated
8-10
leaves arugula (rocket), stems removed and washed
Food Safety
Before you start, wash all surfaces and your hands with soap and warm water, and remember to wash your hands, utensils and cutting boards after they touch raw meat or eggs. Avoid cross-contamination by using a different cutting board for your meat and other ingredients. Make sure you're cooking to safe temperatures and chilling any leftovers within two hours. For more food safety tips, visit our Food Safety at Home Section.
Steps
Preheat oven to 350°F (175°C). In a small frying pan, cook the tomatoes, onion, thyme and honey over medium-high heat for 7 minutes or until the sauce thickens. Set aside.

Wrap prosciutto slices around the chicken strips.

Place prosciutto-wrapped chicken strips on a baking sheet covered with parchment paper and bake for 5 minutes. Set aside.

Spread a generous amount of the tomato sauce on the pizza crust and add shredded mozzarella. Place prosciutto-wrapped chicken strips in a sunburst pattern on the cheese.

Bake in oven for about 10 minutes or until crust is cooked and cheese is melted.

Remove from oven. Add arugula between the chicken strips and serve immediately with a spinach and blackberry salad with balsamic glaze.
Nutrition Info
| Per 275 g serving | Amount |
| --- | --- |
| Calories | 530 |
| Protein | 39 g |
| Fat | 15 g |
| Saturated Fat | 8 g |
| Carbohydrate | 57 g |
| Fibre | 3 g |
| Sugar | 9 g |
| Cholesterol | 70 mg |
| Sodium | 1160 mg |
| Per 275 g serving | % Daily Value |
| --- | --- |
| Potassium | 10 |
| Calcium | 50 |
| Iron | 20 |
| Vitamin A | 10 |
| Vitamin C | 15 |
| Vitamin B6 | 18 |
| Vitamin B12 | 29 |
| Folate | 8 |
| Zinc | 24 |