Chicken à la King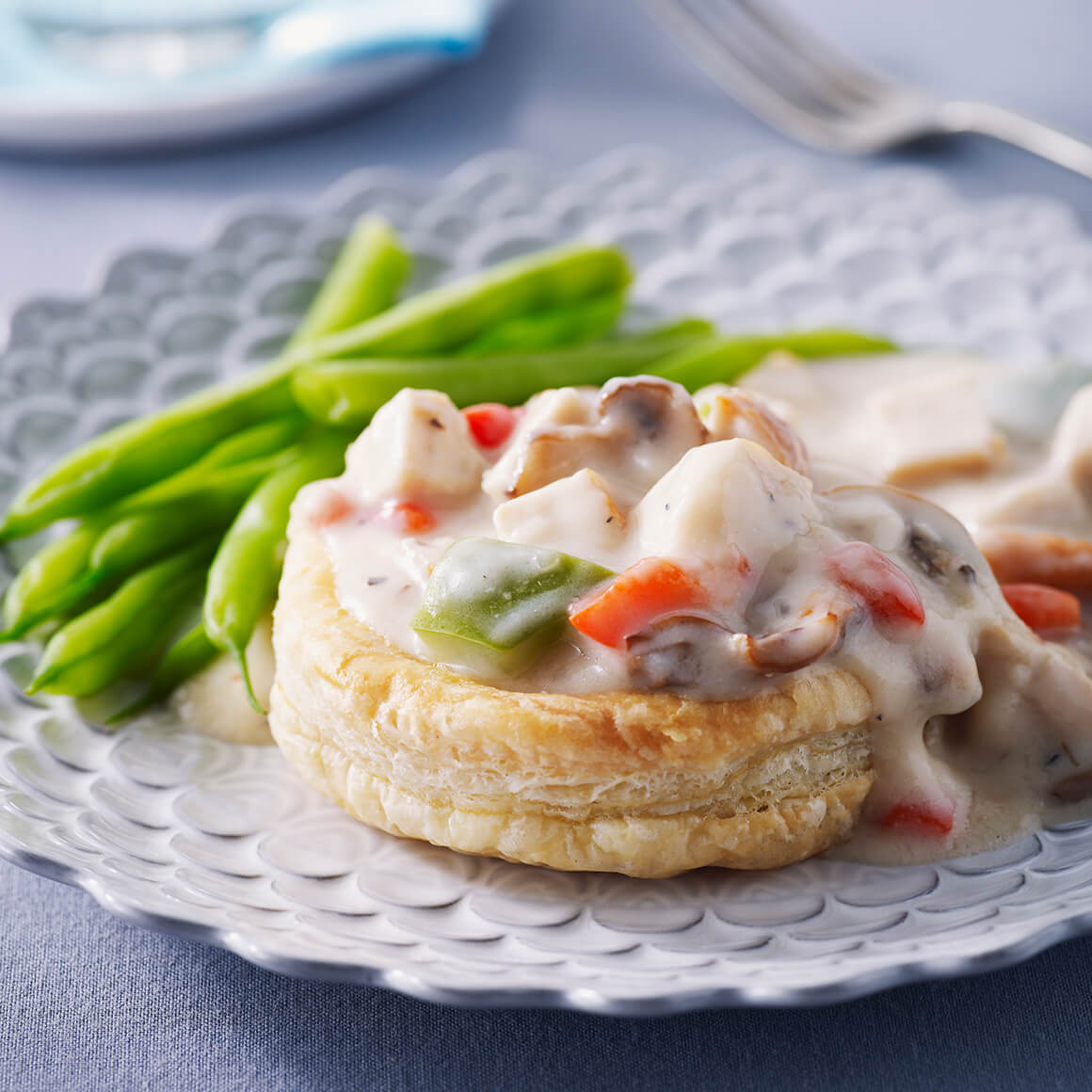 This classic chicken dish turns leftover cooked chicken into an elegant French meal. Its delicate, earthy flavour, thanks to the mushrooms and sherry, is perfect served with steamed green beans and rosemary roasted potatoes.
Ingredients
3 cups
chicken, cooked, diced
1
green pepper, finely-chopped
2 tsp
chicken bouillon powder
¼ cup
alcohol-free sherry
Food Safety
Before you start, wash all surfaces and your hands with soap and warm water, and remember to wash your hands, utensils and cutting boards after they touch raw meat or eggs. Avoid cross-contamination by using a different cutting board for your meat and other ingredients. Make sure you're cooking to safe temperatures and chilling any leftovers within two hours. For more food safety tips, visit our Food Safety at Home Section.
Steps
Melt butter in frying pan. Add mushrooms and green pepper. Sauté until soft.

Mix in flour, bouillon powder, salt and pepper

Stir in milk and water until it boils and thickens.

Add chicken, pimento and sherry. Stir. Heat through.

Serve on small puff pastries
Helpful Tip
Using twice as much pepper zips it up!
Nutrition Info
| Per 310 g serving | Amount |
| --- | --- |
| Calories | 320 |
| Protein | 30 g |
| Fat | 17 g |
| Saturated Fat | 10 g |
| Carbohydrate | 9 g |
| Fibre | 1 g |
| Sugar | 6 g |
| Cholesterol | 110 mg |
| Sodium | 840 mg |
| Per 310 g serving | % Daily Value |
| --- | --- |
| Potassium | 16 |
| Calcium | 10 |
| Iron | 4 |
| Vitamin A | 25 |
| Vitamin C | 60 |
| Vitamin B6 | 35 |
| Vitamin B12 | 33 |
| Folate | 7 |
| Zinc | 14 |