Broccoli, Potato & Chicken Soup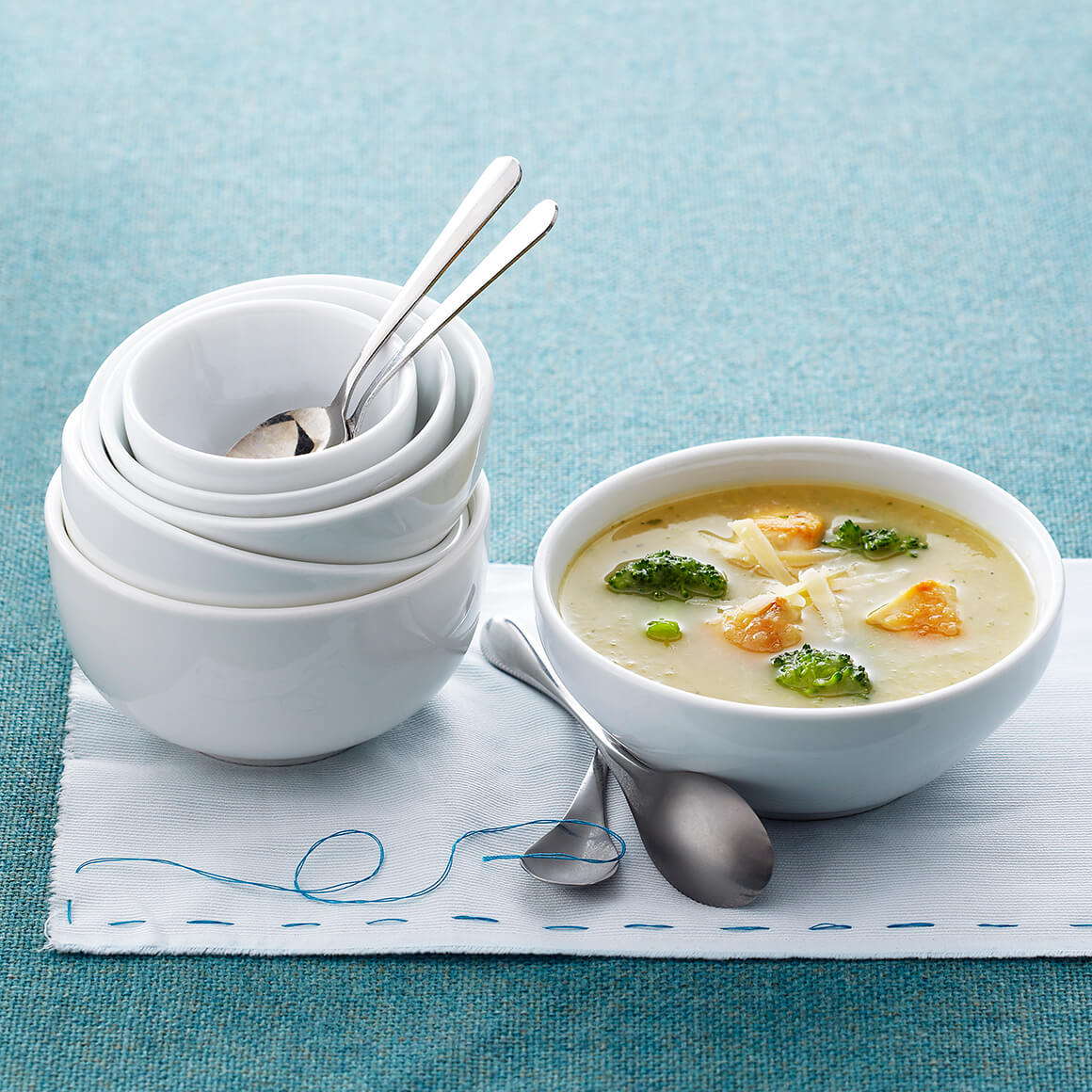 This easy, creamless soup looks big on effort but is not. Potatoes provide the soup with body and Emmental cheese lends its distinctive flavour. This makes a lot, and is perfect for company. It doesn't require a lot of time to put together, and the delicious combination of broccoli, cheese, and chicken makes this recipe well worth a try!
Ingredients
1 lb
boneless, skinless chicken breast(s)
4 cups
broccoli, stems (from 4 stalks)
4 cups
broccoli, cut into small florets (from same 4 stalks)
¼ tsp
pepper, freshly ground
2 cups
swiss Emmental cheese, grated
Food Safety
Before you start, wash all surfaces and your hands with soap and warm water, and remember to wash your hands, utensils and cutting boards after they touch raw meat or eggs. Avoid cross-contamination by using a different cutting board for your meat and other ingredients. Make sure you're cooking to safe temperatures and chilling any leftovers within two hours. For more food safety tips, visit our Food Safety at Home Section.
Steps
Cut the chicken breast into bite size pieces. Melt 1 tablespoon (15 mL) of butter in a large non-stick soup pot. Sauté chicken in butter until lightly browned and thoroughly cooked. Remove from pot and set aside.

Melt the rest of the butter and sauté the onion and garlic until translucent – about 5 minutes. Stir occasionally.

Remove stems from broccoli (about 4 heads). Separate heads into small bite size florets and set aside. Peel, halve and chop the stems. Add chopped stems to the soup pot with the diced potatoes and sauté another 5 minutes stirring occasionally.

Add chicken broth, water, salt, pepper, nutmeg and tarragon. Bring to a boil and simmer until vegetables are tender; about 10 minutes. Puree soup.

Stir in the cooked chicken breast and broccoli florets and simmer until florets are tender crisp – about 10 minutes.

To serve ladle into bowls and garnish with grated Emmental "Swiss" cheese.
Helpful Tip
A creamy soup without the cream! Leave the peels on the potatoes for extra fibre and nutrients. If using a ready-made chicken broth you may need less salt. A homemade broth is usually less salty. This recipe was made with 4 full stalks of fresh broccoli.
Nutrition Info
| Per 360 g serving | Amount |
| --- | --- |
| Calories | 240 |
| Protein | 21 g |
| Fat | 10 g |
| Saturated Fat | 6 g |
| Carbohydrate | 19 g |
| Fibre | 3 g |
| Sugar | 3 g |
| Cholesterol | 50 mg |
| Sodium | 370 mg |
| Per 360 g serving | % Daily Value |
| --- | --- |
| Potassium | 20 |
| Calcium | 20 |
| Iron | 8 |
| Vitamin A | 25 |
| Vitamin C | 130 |
| Vitamin B6 | 34 |
| Vitamin B12 | 49 |
| Folate | 27 |
| Zinc | 21 |